Chef Prachan Vong-Uthaiphan
Executive Chef, Arnoma Grand Hotel Bangkok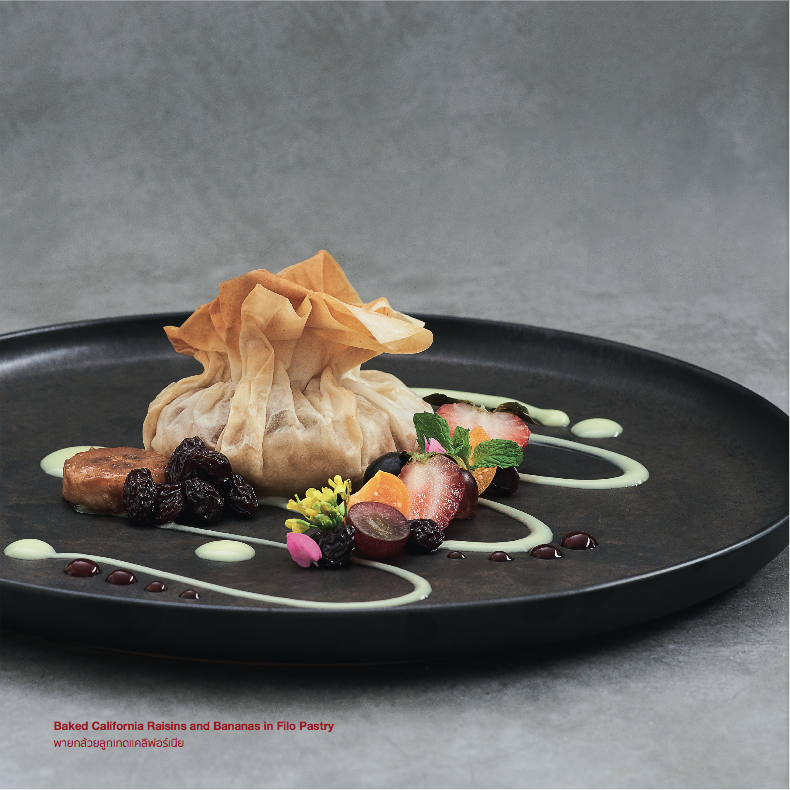 California Raisin Banana Filling
Vanilla Sauce
California Raisin Fruit Salad
Caramelised Bananas
Strawberry Sauce
100
g
Frozen Strawberries
Garnish
5
sprigs Fresh Mint Leaves
California Raisin Banana Filling
1
Slice banana about 0.5 cm in length and sauté with butter in hot pan. Add California Raisins and stir together with the bananas. Add cornflakes and chopped cashew nuts and continue to saute until well combined. Season with honey, maple syrup, cinnamon powder and a pinch of salt. Set aside to cool.
2
Cut the lo pastry into 5 by 5 inch squares. Note. Use 3 sheets of filo pastry for 1 portion.
3
Brush each layer of filo pastry with clarified butter and place the California Raisin Banana Filling in the centre of the filo pastry. Wrap the filo pastry into a purse bouquet. Bake in the oven at 180C for 25 minutes or until the filo turns golden brown.
Vanilla Sauce
4
Heat up the milk and fresh cream with the vanilla bean pod. Strain.
5
In a mixing bowl, whisk egg yolks with sugar until well blended.
6
Pour the milk mixture into the egg mixture and stir slowly on
medium heat. Add a drop of vanilla essence for additional flavour. Stir until the sauce is smooth and a little thick.
California Raisin Fruit Salad
7
Cut strawberries, cape gooseberries and red grapes