THEN CHUI FOONG | CHEF INSTRUCTOR, SCHOOL OF HOSPITALITY, REPUBLIC POLYTECHNIC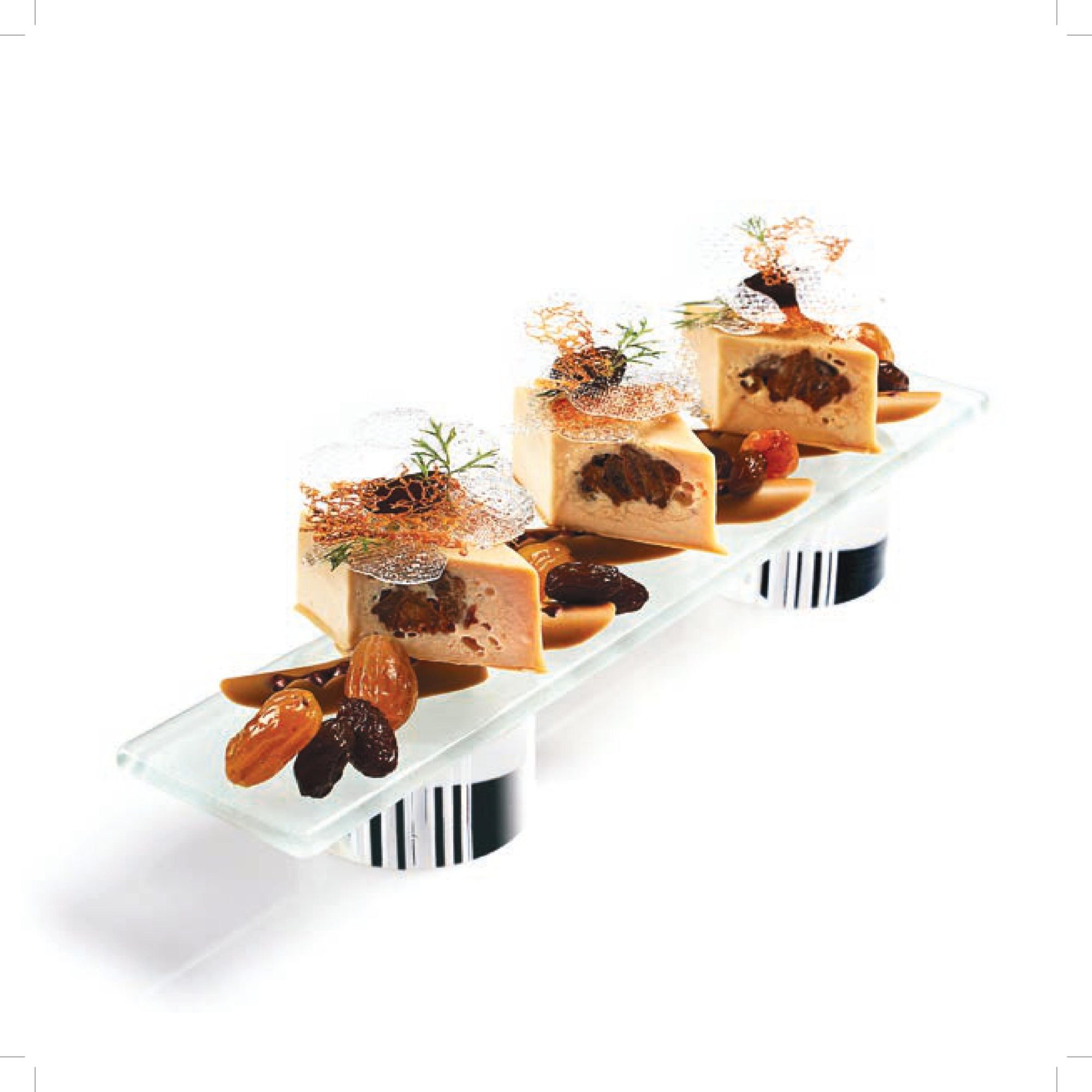 Macerated California Raisins
150
g
California Natural Raisins
Dulcey Chocolate Jelly
300
g
Dulcey 32% chocolate
Long Net Stinkhorn Wrap
10
pcs long net stinkhorn, soaked in cold water until soft
Dulcey Chocolate Decoration
250
g
Dulcey 32% chocolate
150
g
Caramelia crunchy pearl
Isomalt Decoration
Macerated California Raisins
1
Macerate the California Natural Raisins with creme de cassis and tequila for 1 week.
Dulcey Chocolate Jelly
2
Bring milk to a boil and add gelatin.
3
Pour hot milk gradually over Dulcey 32% chocolate to form an emulsion.
4
Cool the mixture to 30°C and add the macerated raisins. Chill in the refrigerator until set.
Long Net Stinkhorn Wrap
5
Poach the soft long net stinkhorns in water and sugar until tender and strain away the syrup.
6
Fill the long net stinkhorns with the macerated raisins. Chill them in the refrigerator for 2hrs.
Dulcey Chocolate Decoration
7
Temper Dulcey chocolate.
Decorate with Caramelia crunchy pearl and leave to crystalise.
Isomalt Decoration
8
Spread isomalt on baking silpat. Bake at 180°C for 10mins or until melted.
9
Place fresh dill and long net stinkhorn on top of melted isomalt, continue to bake
for 3mins.
10
Remove from oven, cool down and store in an air-tight container.
TO ASSEMBLE
11
Place long net stinkhorn wrap into Dulcey jelly, and then both in a desired mould. Chill in the refrigerator until set, unmould and store chilled.
12
Portion the Dulcey jelly into desired thickness. Use Dulcey chocolate decoration as a base for Dulcey jelly.
13
Decorate with dill isomalt and macerated California Natural Raisins. Serve chilled.
Ingredients
Macerated California Raisins
150
g
California Natural Raisins
Dulcey Chocolate Jelly
300
g
Dulcey 32% chocolate
Long Net Stinkhorn Wrap
10
pcs long net stinkhorn, soaked in cold water until soft
Dulcey Chocolate Decoration
250
g
Dulcey 32% chocolate