ADRIAN L. REDONDO
The light, delicate crispy crust makes you want to take a bite as soon as the aroma of a freshly baked pie fills the air. The filling, a combination ofCalifornia Golden Raisins, tangy mango bits and sugary mango sauce,could not be more perfect. These pocket pies can be made ahead and can go directly from the freezer to the fryer or to the oven any time of the day. Serve it as a refreshing snack or a dessert to cap off a meal.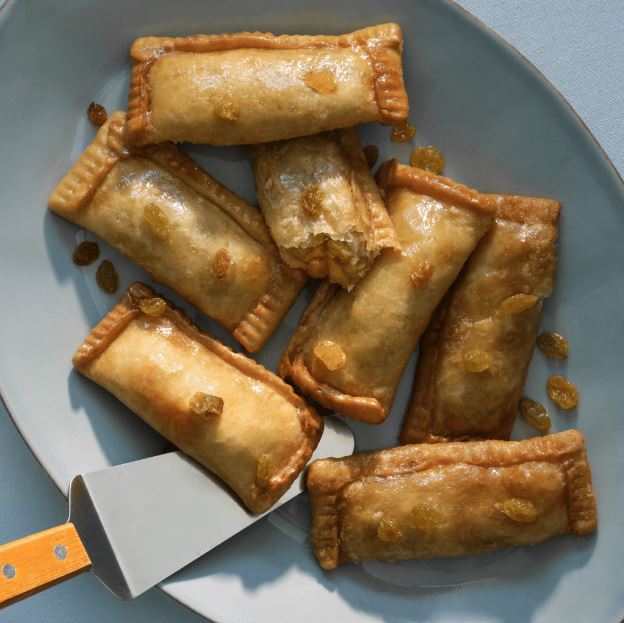 Makes 10 pies
PASTRY DOUGH
30
g
Sugar, white refined
Bakers % - 10.2
59
g
Water
Bakers % - 20.0
118
g
Unsalted Butter
Bakers % - 40.0
295
g
Cake Flour
Bakers % - 100.0
CALIFORNIA GOLDEN RAISIN AND MANGO FILLING
88
g
California Golden Raisins
18
g
Instant Modified Starch
33
g
Sugar, white refined
GLAZE
California Golden Raisin and Mango Filling
1
Cut dried mangoes into same size as California Golden Raisins. Set aside.
2
Dry blend instant modified starch and sugar.
3
Add water and mango puree. Stir until no lumps are seen.
4
Add in California Golden Raisins and dried mangoes.
5
Heat mixture over low flame until 70 ̊C with constant stirring.
6
Cool immediately and set aside inside the chiller.
Glaze
7
Whisk together maltodextrin and water.
Pastry Dough
9
Dissolve sugar in water and set aside.
10
Cut butter into small cubes and rub in your hands with the cake flour
11
Once butter sizes are small or the mixture's texture is like grains of sand, add the sugar-water mixture and mix until a soft ball is formed. Do not knead or overmix.
12
Divide the pastry by 10 x 50 grams. Chilll for 30 minutes (minimum) to overnight (maximum).
13
Sheet each pastry into 5.5" inch square. Place 50 grams of filling at the center. Fold into a rectangle and seal sides with a fork.
14
Store assembled pastry in the freezer until ready to be deep fried or baked.
15
On a medium, heavy-bottomed pan, preheat about 2 to 3 inches of oil to 190 ̊C.
16
Carefully lower pocket pies one at a time into the oil. Cook on one side for 2 to 3 minutes, or until golden. Then cook on the other side for 1 minute or less, until golden.
17
Immediately apply glaze after frying. Transfer to a wire rack to cool.
For Baking Option
18
Transfer pocket pies to a baking tray. Brush glaze on top of the pastry.
19
Bake at 190 ̊C for 10 to 12 minutes or until brown crust underneath the pie is formed.
20
Remove from baking tray and transfer to a wire rack to cool.
Ingredients
Makes 10 pies
PASTRY DOUGH
30
g
Sugar, white refined
Bakers % - 10.2
59
g
Water
Bakers % - 20.0
118
g
Unsalted Butter
Bakers % - 40.0
295
g
Cake Flour
Bakers % - 100.0
CALIFORNIA GOLDEN RAISIN AND MANGO FILLING
88
g
California Golden Raisins