FRANCK HEUZE, DIRECTOR OF PRODUCTION & QUALITY, PAUL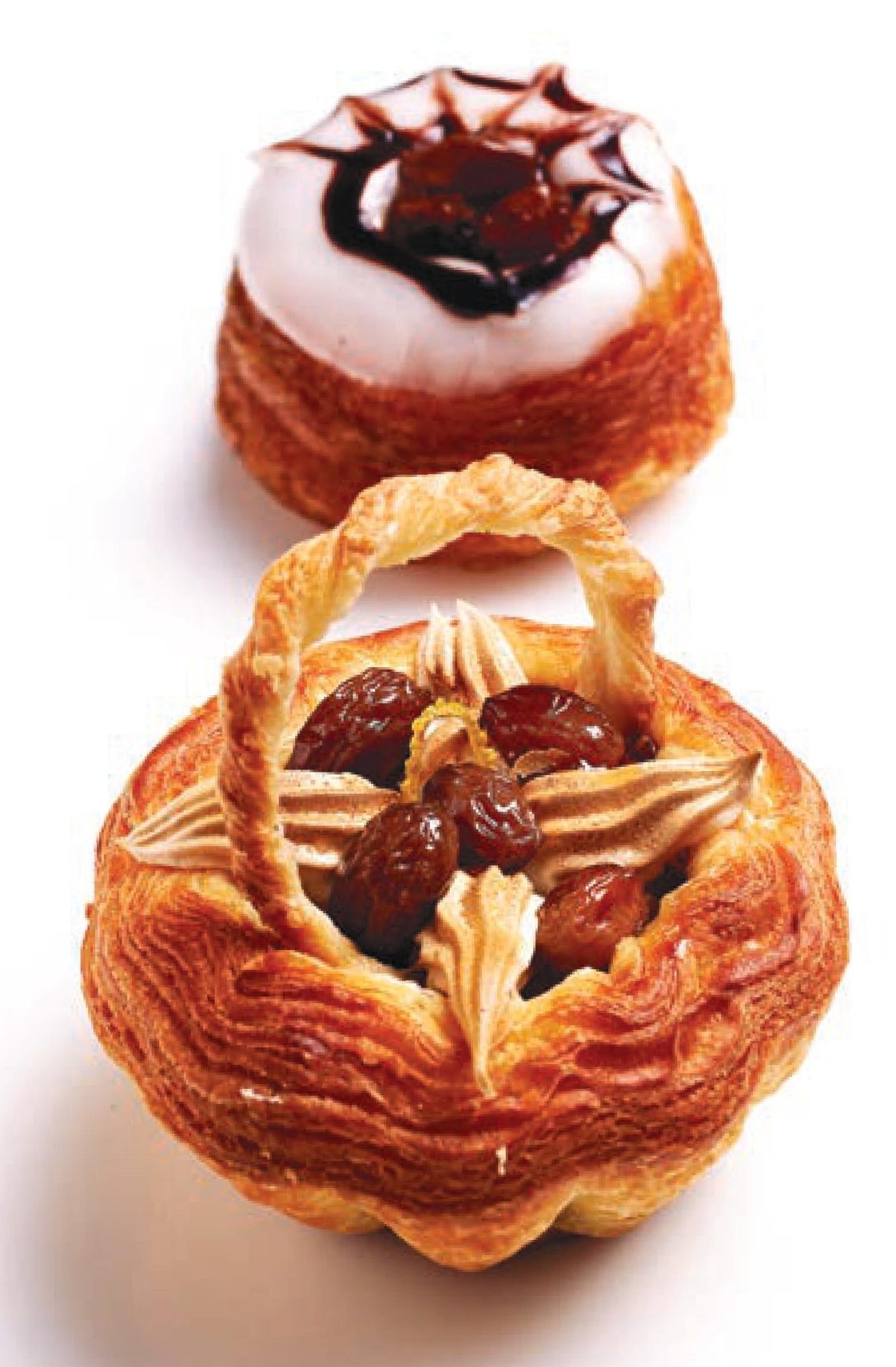 Danish Dough
Poolish
Main Dough
Yuzu Cream
California Raisin Paste
Roasted Hazelnuts
Mint Meringue
Danish Dough
1
To make the poolish, dilute yeast in water. Using a Kitchen Aid mixer with the paddle, mix flour and water with yeast for 5mins until homogeneous. Cover with a cloth and allow the poolish to rise for 4hrs. The poolish is ready to use when its centre starts to collapse.
2
For the main dough, add all the ingredients except egg and butter into the bowl of a mixer.
3
Pour egg over the poolish gently, then add to dry ingredients in the bowl. Mix for 5mins on slow speed and 2mins on fast speed. Allow the dough to rest for an hour. Knock it back and place it in a chiller overnight.
4
After the dough is chilled, place butter inside the dough. Give it a double fold, wrap it with cling film, and put it in the freezer for 1hr.
5
Give the dough a single fold, wrap it with cling film, and return it to the freezer for at least 4hrs.
6
Give the dough a final single fold, wrap it with cling film, and return it to the freezer to let rest for 1hr.
7
Laminate the dough to about 3-4mm-thick layers. Cut the dough with 8cm diameter round cutters. Place the cut dough into individual brioche moulds (silform, ideally) and set aside.
Yuzu Cream
8
Mix egg, custard powder, and half of the sugar until they form a smooth consistency, with no lumps.
9
Place milk, yuzu purée and other half of the sugar in a saucepan, and bring to a boil.
10
Once the milk mixture has boiled, pour a third of it into the egg and custard powder mixture and mix energetically. Pour this back into the saucepan and cook the cream for about 3mins or until it boils. Stir continuously to make sure it does not burn.
11
Cool the cream down using a Kitchen Aid. Once it is cooled down, mix in the butter.
California Raisin Paste
12
Place California Raisins and yuzu zest together in a bowl.
13
Cook sugar and water until it boils. Pour it over the California Raisins and yuzu zest.
14
Wrap the bowl with cling film and chill it at 4°C until the next day.
15
Using a Robot-Coupe, make a paste out of the mixture.
Roasted Hazelnuts
16
Roast hazelnuts at 180°C for 15 to 20mins. Once they are cooled down, grind them up coar