ESTHER CHENG, EXECUTIVE PASTRY CHEF, ARGENTUM KITCHEN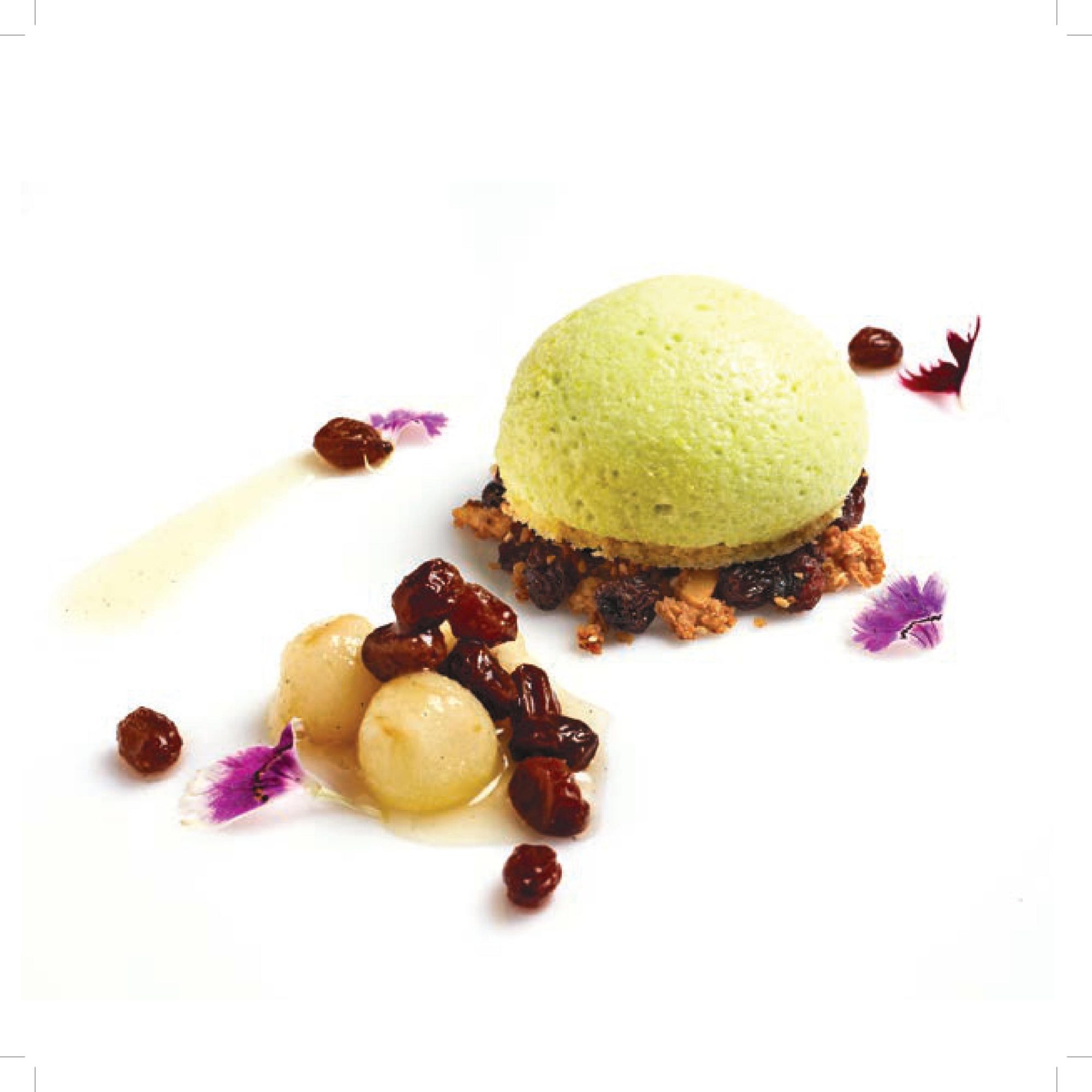 Muesli Base
90
g
California Natural Raisins
75
g
unsalted butter, at room temperature
1
green apple, peeled and grated
Green Apple Chiboust
California Raisin & Apple Compote
1
pc vanilla pod, split and seeds scraped out
Almond Sponge
Muesli Base
1
Combine California Natural Raisins together with soft butter.
2
Mix oat flakes, almond strips, grated green apple, white sesame seeds, dark brown sugar and pure honey well. Spread out as a layer on a baking tray and bake at 170°C until golden brown.
3
When mixture is cooling down, add in California Raisins and soft butter. Mix well and press into a mould to about 1cm thickness.
4
Return to the oven and bake at 150°C for 5 mins, to bind all the ingredients. Remove from oven and let cool.
5
Freeze the cold muesli base together with the mould.
Green Apple Chiboust
7
Mix egg yolk, sugar and custard powder. Pour into boiling cream and cook
until 84°C.
8
Stir gelatin into hot mixture, followed by green apple purée. Set aside.
9
Boil 120g sugar together with water until 121°C.
10
Make an Italian meringue by whipping up egg white and 40g sugar. Slowly pour in the sugar syrup, whip and cool down.
11
Fold the Italian meringue into the green apple custard mixture. Pipe the chiboust into a mould.
12
Cut the almond sponge the same size as the mould. Put the sponge on top of the chiboust and freeze.