Yong Ming Choong| Executive Pastry Chef, Mandarin Oriental Singapore
I was inspired by one of my traditional childhood games, "Gasing Top", to create this California Raisin beetroot croissant as the shape and spiral patterns on the croissant resembles the spinning top. Working on this recipe brought back memories of my kampong days and gave me ideas on how I can entice my son to enjoy croissants and California Raisins for breakfast and as a snack.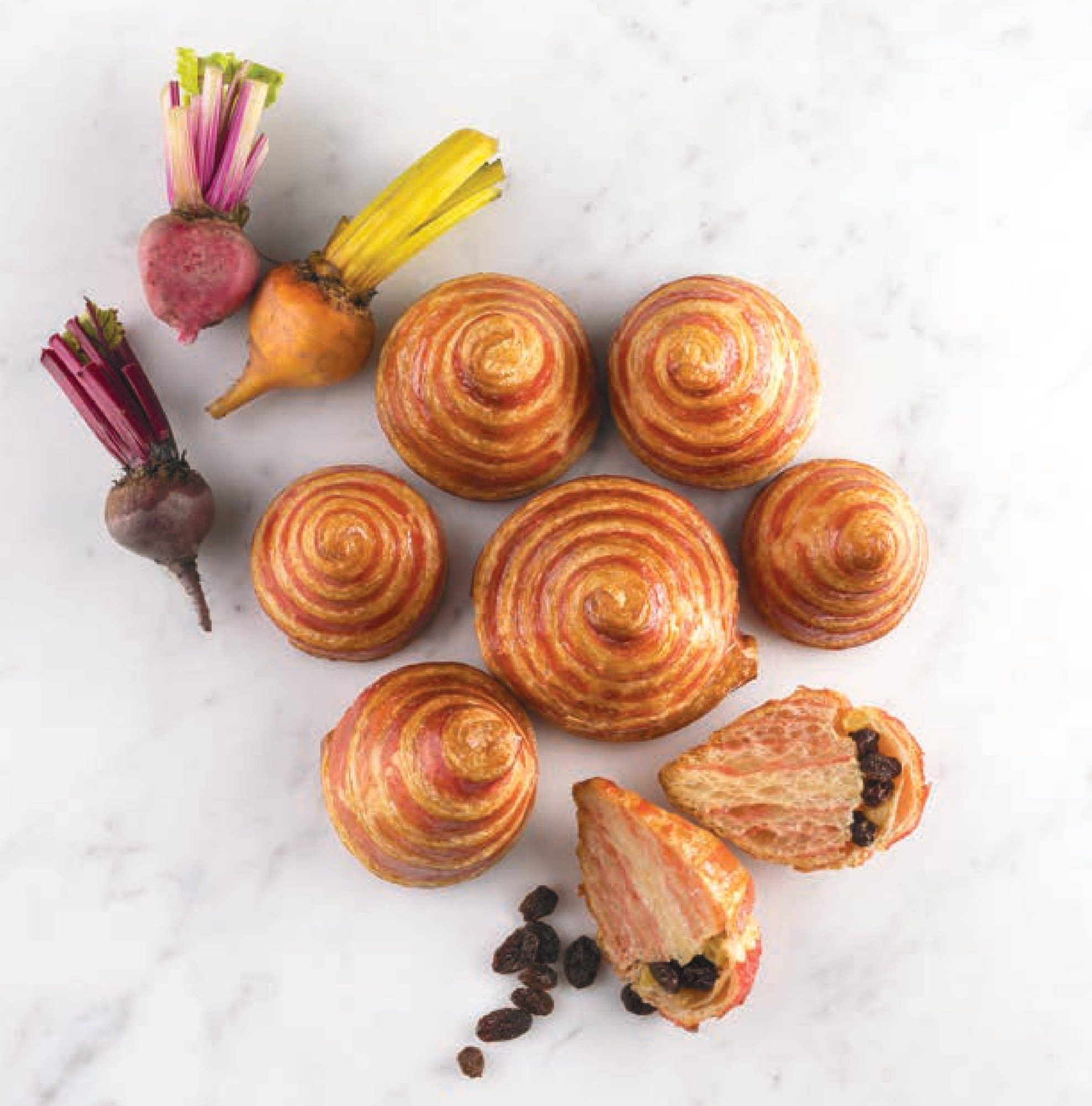 Yields 50 pieces
BEETROOT CROISSANT DOUGH
850
g
bread flour, sifted
PLAIN CROISSANT DOUGH
850
g
bread flour, sifted
CALIFORNIA RAISIN & YUZU CURD
100
g
California Golden Raisins
60
g
California Raisin paste
BEETROOT CROISSANT & PLAIN CROISSANT DOUGH
1
Place all ingredients (except butter) for the beetroot croissant dough into the bowl of a vertical planetary mixer.
2
Gently mix at Speed 2 for 4 minutes until dough is firm.
3
Repeat the above steps with the plain croissant dough.
4
Place both doughs in the refrigerator and chill at 3°C for about 14 hours.
5
To laminate the dough, massage butter until it becomes pliable but not soft and oily. Pat dough into a 36cm-by-20cm rectangle mould. Smear butter on top of two-thirds of the surface, leaving a 0.6-cm circumference all around.
6
Fold unbuffered third over the middle third, and buttered top third down over that. Turn 90° so that folds are to the left and right.
7
Roll out to a 36cm-by-15cm rectangle, and fold into three again.
8
Sprinkle lightly with flour and put dough in a plastic bag. Chill for 2 hours, then sprinkle with flour and deflate gently.
9
Roll to a 36cm-by-15cm rectangle and fold again.
10
Turn 90° and repeat. Wrap