ANDY FOO, EXECUTIVE PASTRY CHEF, GRAND HYATT SINGAPORE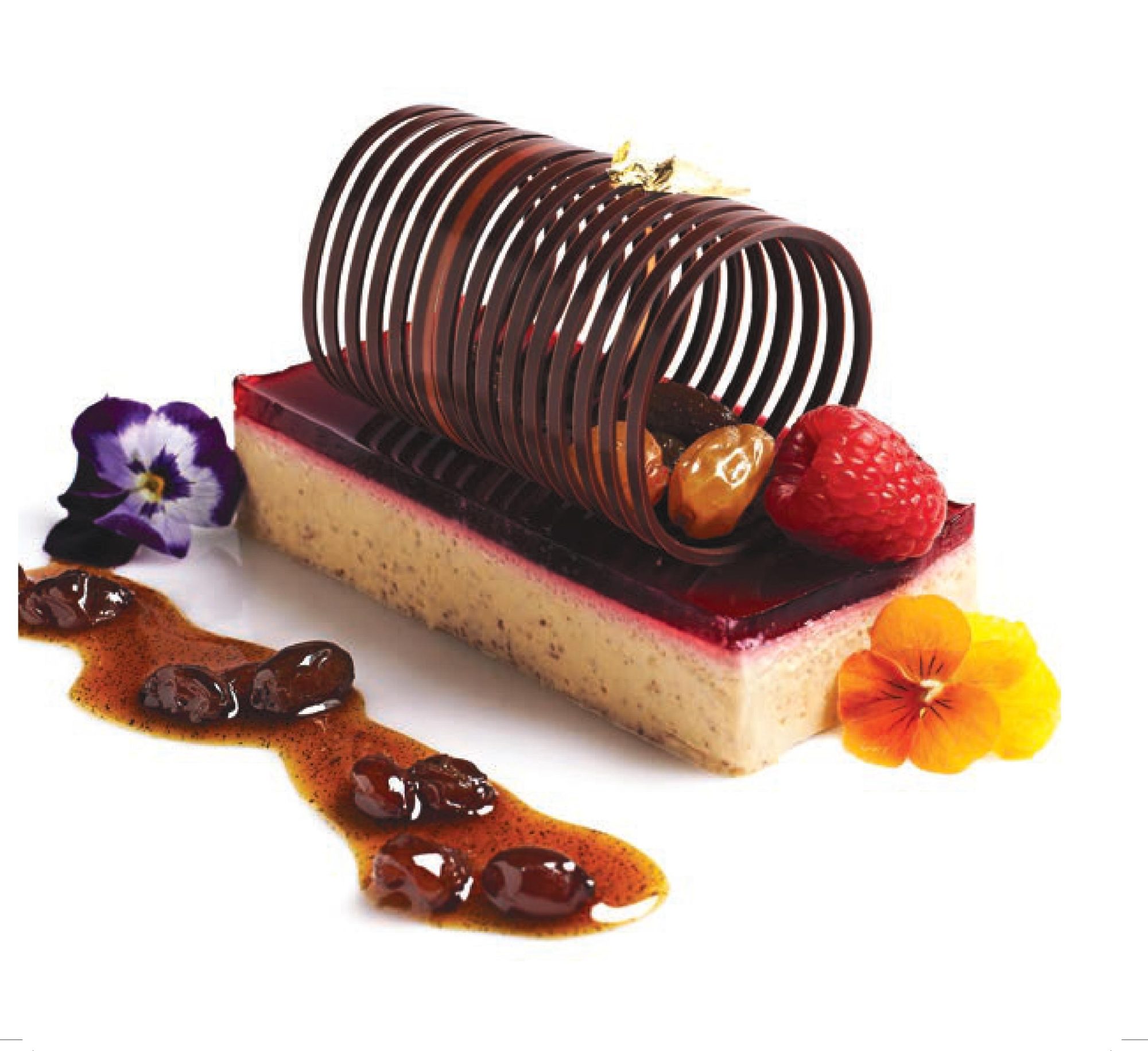 California Raisin Bourbon Vanilla Custard
½
pcs vanilla pod, split and seeds scraped out
Hibiscus Tea Jelly
20
g
dry hibiscus flowers
2
pc gelatin sheets, bloomed
Rum Vanilla Marinated California Raisins
40
g
California Natural Raisins
California Raisin Bourbon Vanilla Custard
1
Soak California Raisins in rum for 2 days and blend them into a paste.
2
Combine fresh milk and fresh cream with the vanilla seeds in a pot and bring to
a boil. Once boiled, remove the cream mixture from heat.
3
Mix egg yolk and sugar well, until all sugar has dissolved. Add the egg yolk mixture into the cream mixture and strain.
4
Whisk the California Raisin paste into the strained mixture until fully incorporated.
5
Pour the mixture into an 11cm x 4cm x 5cm height rectangle mould and steam for 45mins in a convection oven.
Hibiscus Tea Jelly
6
Combine water, sugar, vanilla pod, coarse black pepper, orange and lemon skins in a pot and cook to 80°C.
7
Remove the mixture from heat and add in dry hibiscus flowers to infuse for half
a minute.
8
Strain immediately and add in gelatin.
Rum Vanilla Marinated California Raisins
9
Combine all ingredients, place in an airtight jar and steam for lhr in a convection oven. Let age for 3 days.
GARNISH
TO ASSEMBLE
14
Pour a layer of hibiscus tea jelly onto the cooled custard and let it set overnight.
15
When serving, place custard on plate and unmould with a sharp knife.
16
Decorate with chocolate ornaments and raspberries.
17
Drizzle rum vanilla marinated California Raisins on the side of the custard.