WILBURT C. WONG
The Christmas Pinoyttone is a tribute to the Filipino's love of bread and celebrations. Adorned with vodka-soaked California Raisins, Filipino Christmas ham, moringa flakes, desiccated coconut, and finally glazed with the reduction of the soaked California Raisins, this bread is truly worthy of a celebration.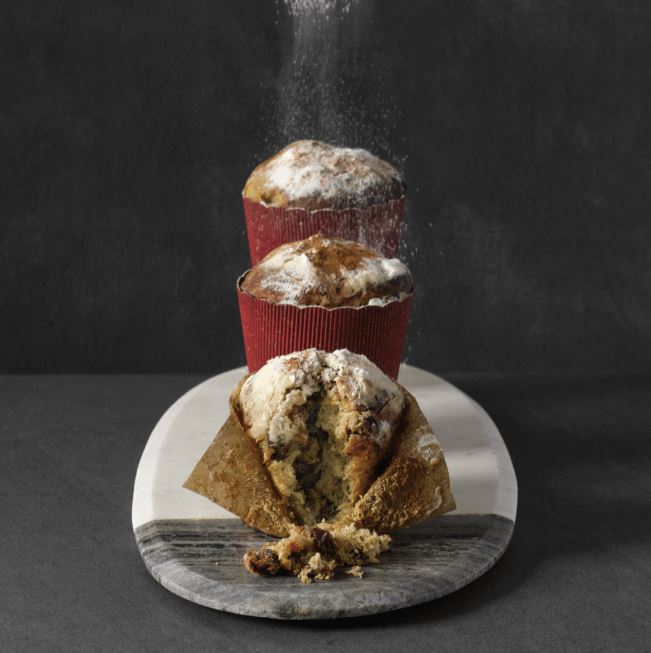 Makes 12 panettones
CALIFORNIA RAISIN AND CHRISTMAS HAM SOAKER
213
g
Christmas Ham, cubed
3
g
Orange essence, optional
DOUGH
425
g
Bread Flour
Bakers % - 100.0
234
g
Water, chilled
Bakers % - 55.1
85
g
Egg Yolks
Bakers % - 20.0
9
g
Instant Dry Yeast
Bakers % - 2.0
4
g
Salt, iodized
Bakers % - 1.0
128
g
Sugar, white refined
Bakers % - 30.0
64
g
Milk powder, full cream
Bakers % - 15.0
2
g
Moringa Flakes
Bakers % - 0.5
85
g
Sourdough Starter
Bakers % - 20.0
22
g
Desiccated Coconut
Bakers % - 5.0
128
g
Unsalted Butter, cubed
Bakers % - 30.0
TOPPING
100
g
Confectioners' Sugar
GLAZE
California Raisin and Christmas Ham Soaker
1
In a bowl, combine the California Raisins, Christmas ham, vodka and orange essence.
2
Keep covered and chilled. Soak for at least 1 hour up to overnight.
3
Drain the California Raisins and Christmas ham and set aside. Keep the drained liquid for later use.
Glaze
4
In a pan, heat drained liquid and simple syrup until it boils.
5
Stir occasionally. Take off the heat, and add the butter.
Dough
7
Place yeast and bread flour into the mixing bowl. Follow with the salt, sugar, milk powder and moringa flakes.
8
In a stand mixer fitted with the dough hook attachment, mix at the lowest speed.
9
Pour in the sourdough starter, egg yolks, and water slowly. Continue mixing at the lowest speed until all the dry ingredients are hydrated.
10
Add in the cubed butter. Shift to medium speed and mix until full development.
11
Take out the dough and cut it into pieces. Return the dough piece by piece into the bowl and layer with desiccated coconut, drained California Raisins and Christmas ham alternately.
12
Mix at low speed to distribute the filling, and until the dough comes together.
13
Cover and bulk ferment for 1 hour.
14
Divide the dough by 12 x 230 grams. Round and place inside the 3.5 inch paper panettone molds.
15
Final proof for 2 hours and 20 minutes, or until the dough is ½ an inch below the rim of the panettone mold.
16
Preheat oven at 190 ̊C. Bake for approximately 1 hour and 20 minutes, or until done.
17
Remove the panettone from the oven and skewer the loaves with two (2) sticks at 1/4 of the height from the base. Flip them upside down and hang inverted to cool
completely to prevent them from collapsing.
18
After cooling, remove the sticks and using a pointed serrated knife, score the top-middle of the panettone. Brush the top with glaze and spoon in the excess.
19
Dust with powdered sugar and a pinch of cinnamon on top for decoration.