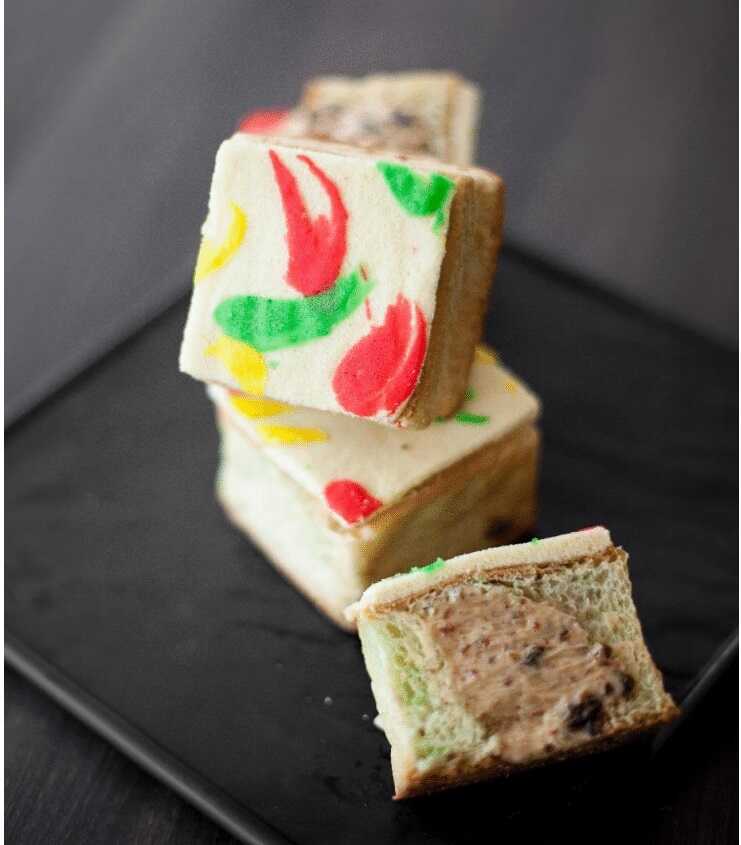 Ingredients for sponge preferment for 18 pcsx65g
300
g
Bread flour
Baker's % - 60
195
g
Water
Baker's % - 65
Ingredients for dough
100
g
Bread flour
Baker's % - 20
100
g
Plain flour
Baker's % - 20
250
g
California Raisins
Baker's % - 50
100
g
Sugar
Baker's % - 20
2
g
Bread improver
Baker's % - 0.4
20
g
Milk powder
Baker's % - 4
56
g
Egg (1 no.)
Baker's % - 11.2
25
g
Egg yolk
Baker's % - 5
85
g
Butter
Baker's % - 17
Ingredients for raisin cream cheese filling
750
g
Cream cheese
Baker's % - 100
270
g
Icing sugar
Baker's % - 36
165
g
Butter
Baker's % - 22
300
g
California Raisins
Baker's % - 40
85
g
Butter
Baker's % - 17
Patterned Sponge
Part A (Edible design)
100
g
Butter
Baker's % - 100
100
g
Icing Sugar
Baker's % - 100
100
g
Egg White
Baker's % - 100
2 ½
tsp
Vanilla Essence
Baker's % - 2
100
g
Plain Flour
Baker's % - 100
Red, green , orange Food Colours
Sponge preferment for 18 pcsx65g
1
Mix all the ingredients together and set aside for two hours.
Dough
2
Mix the fermented sponge with the dough ingredients, adding the butter last.
3
Knead until developed before adding in the California Raisins.
4
Round and bulk ferment for about 30 mins.
5
Divide into 65g each. Place into greased square tins.
7
Bake at 200°C for about 12 mins.
8
When cooled, pipe about 30g of raisin cream cheese filling into the buns and decorate the top with a piece of patterned sponge and attach to bread with a bit of cream cheese.
Raisin cream cheese filling
9
Cream the cream cheese and icing sugar together before adding the butter. When the mixture is smooth, add in the California Raisins.
Patterned Sponge
10
Cream butter and sugar before adding egg white and essence. Add in flour and food colours.
11
Spread the mixture over non-stick paper and leave in the freezer to set before spreading the sponge mixture (230g per tray) over it.
12
Bake at 225°C until the sponge turns colour.
13
Cut into squares or shapes.
Ingredients
Ingredients for sponge preferment for 18 pcsx65g