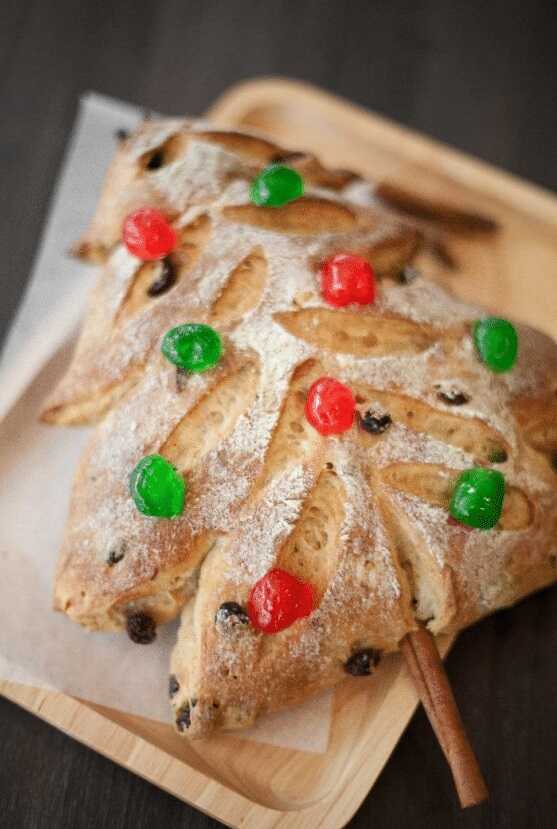 Ingredients for sponge preferment
225
g
Bread flour
Baker's % - 60
3
g
Bread flour
Baker's % - 0.8
150
g
Water
Baker's % - 66.67
Ingredients for dough
80
g
Brown sugar
Baker's % - 21.33
56
g
Egg
Baker's % - 14.93
2
g
Yeast
Baker's % - 0.53
10
g
Milk powder
Baker's % - 2.67
150
g
Bread flour
Baker's % - 40
150
g
Butter
Baker's % - 40
250
g
Rum-soaked California Raisins (soaked in 120g dark rum )
Baker's % - 66.67
20
g
Citrus or dried mango peel
Baker's % - 5.33
10
g
Glace red cherries
Baker's % - 2.67
10
g
Glace green cherries
Baker's % - 2.67
40
g
Toasted almond slivers
Baker's % - 10.67
½
tbs (about 1 lemon) Lemon zest
Baker's % -
6
g
Mixed spice (1.5 tsp)
Baker's % - 1.6
Notes:
Additional 6 nos. of red and 6 nos. of green cherries for decoration
Sponge preferment
1
Mix all the ingredients together and set aside for two hours.
Dough
2
Mix all the sponge ingredients and set aside for 2 hours.
3
Mix the fermented sponge with the dough ingredients, adding the butter last. Knead until developed before adding the spice, zest, Californian Raisins, dried mango/citrus peel and almond slivers later.
4
Round and bulk ferment for about 30 mins.
5
Divide into two pieces (500gx2) before shaping into Christmas trees.
6
Proof. Dust with flour and score attractively before baking at about 200°C for about 25 mins or so.
Ingredients
Ingredients for sponge preferment
225
g
Bread flour
Baker's % - 60
3
g
Bread flour
Baker's % - 0.8
150
g
Water
Baker's % - 66.67
Ingredients for dough
80
g
Brown sugar
Baker's % - 21.33
56
g
Egg
Baker's % - 14.93
2
g
Yeast
Baker's % - 0.53
10
g
Milk powder
Baker's % - 2.67
150
g
Bread flour
Baker's % - 40
150
g
Butter
Baker's % - 40
250
g
Rum-soaked California Raisins (soaked in 120g dark rum )
Baker's % - 66.67
20
g
Citrus or dried mango peel
Baker's % - 5.33
10
g
Glace red cherries
Baker'