Christina Tan, Bakes n Bites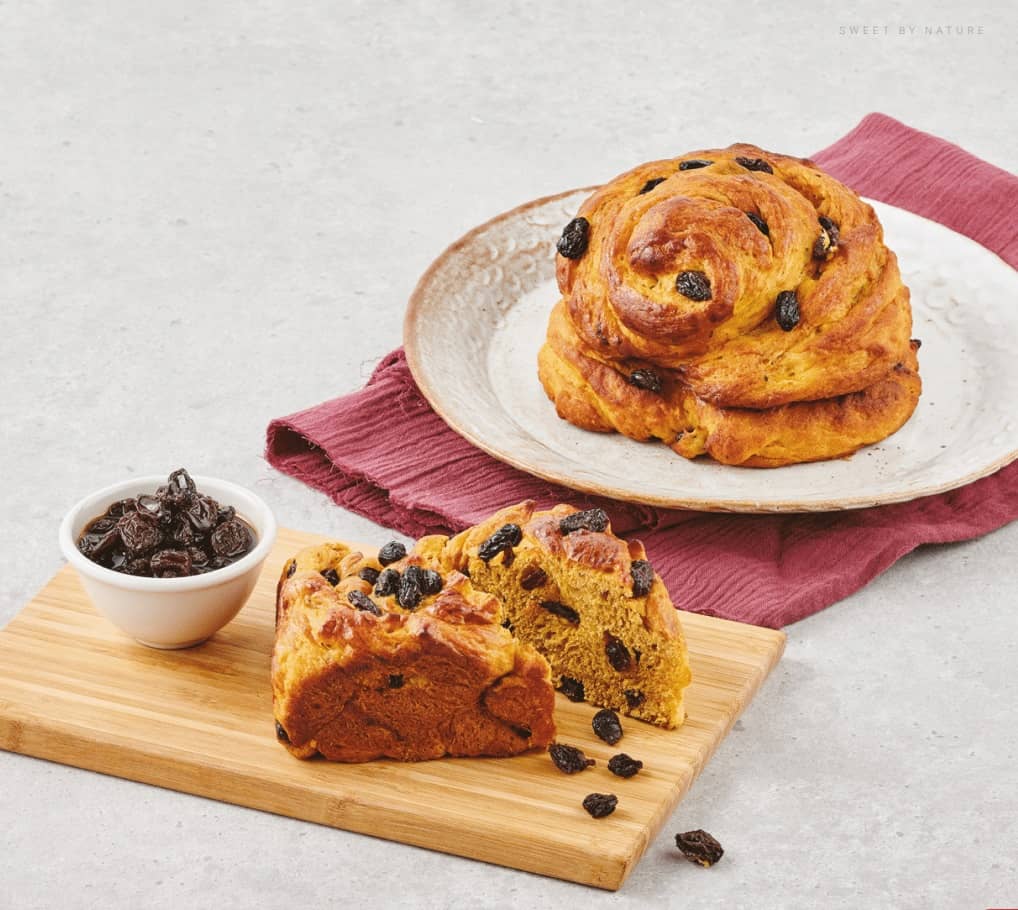 QTY: 20 Breads
Ingredients A
25
g
Instant custard powder
Ingredients B
Ingredients C
200
g
California Raisins, rinsed with water and left to stand for 1 hour
180
g
Unsalted butter (or salted butter, in which case omit the salt above)
Oil or beaten egg yolk, for glazing
METHOD
1
Mix all Ingredients A together until well blended.
2
Mix all Ingredients B together, then add to Ingredients A mixture. With a stand mixer and
dough hook, knead on low speed until everything is incorporated and a dough forms.
3
Add Ingredients C and knead on high speed until dough reaches windowpane stage.
4
Scrape dough into a clean bowl, cover and let rest for 15 minutes at room temperature.
5
Divide dough into 20 portions, each about 50 g. Drain the California Raisins of any residual moisture, then fold about 10 g California Raisins into each dough portion.
6
Shape dough portions into tight rounds. Place on a tray lined with baking paper, spacing them at least 8 cm apart. Cover and let breads proof at room temperature until approximately doubled in size: depending on the warmth of the surrounding environments, this may take between 30 minutes and 6 hours.
7
Preheat oven to 200°C (top element) and 190°C (bottom element).
8
Brush breads with oil or beaten egg yolk.
9
Bake breads for 20 minutes, until golden brown.
10
Let cool completely, then cling wrap breads to prevent moisture loss: they will keep for
2 days.
Ingredients
QTY: 20 Breads
Ingredients A
25
g
Instant custard powder
Ingredients B
Ingredients C
200
g
California Raisins, rinsed with water and left to stand for 1 hour
180
g
Unsalted butter (or salted butter, in which case omit the salt above)
Oil or beaten egg yolk, for glazing