ROCHE GERALDYN L. CHUA
A doughnut is a surefire way to lighten up your mood! These California Raisin custard filled doughnuts are a delicious and comforting treat. With each bite, you get two contrasting textures of light and fluffy exterior, alongside that smooth and creamy custard-raisin interior.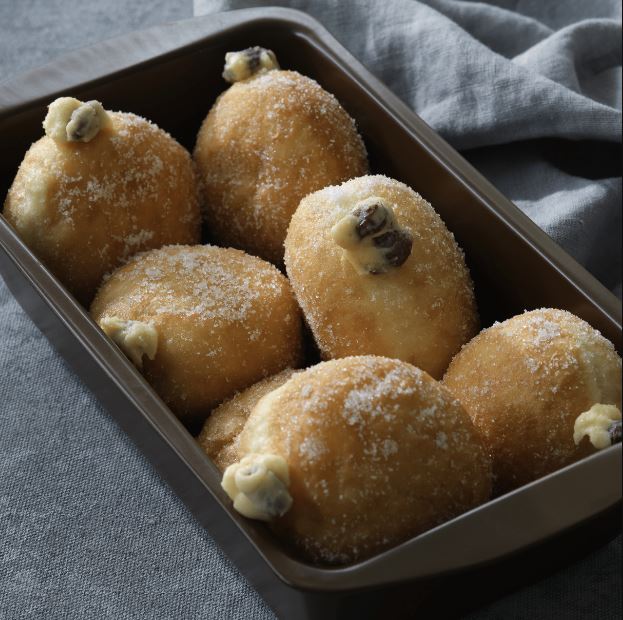 Makes 20 doughnuts
DOUGH
500
g
All-Purpose Flour
Bakers % - 100.0
8
g
Instant Dry Yeast
Bakers % - 1.6
60
g
Sugar, white refined
Bakers % - 12.0
7
g
Salt, iodized
Bakers % - 1.4
200
g
Water
Bakers % - 40.0
100
g
Whole Eggs
Bakers % - 20.0
40
g
Unsalted Butter, softened
Bakers % - 8.0
COATING
80
g
Sugar, white refined
CALIFORNIA RAISIN CUSTARD FILLING
250
g
Whole Milk, full cream
50
g
Sugar, white refined
100
g
Cream Cheese, softened
Dough
1
In a stand mixer fitted with a dough hook attachment, place all ingredients into a mixing bowl except for the butter.
2
Mix the dough for around 2 minutes at low speed then add in the butter.
3
Continue mixing for another 8 to 10 minutes at high speed or until the dough is developed.
4
Cover the dough and let it rest for 30 minutes.
5
Divide into 20 x 40 grams, round and flatten.
6
Proof for 45 minutes to 1 hour or until it doubles in size.
7
On a medium, heavy-bottomed pan, preheat about 2 to 3 inches of oil to 190 ̊C.
8
Carefully lower a few doughnuts at a time into the oil. Cook on one side for 1 to 2 minutes, or until golden. Then cook on the other side for 1 minute or less, until golden.
9
Drain fried doughnuts on a wire rack set over a large tray, or on paper towels. Roll the doughnuts into a bowl of sugar until the exterior is fully coated.
California Raisin Custard Filling
11
In a bowl, soak the California Raisins in water.
12
Cover and set aside for at least 30 minutes.
14
In a saucepan over medium heat, heat the milk just below boiling point.
15
In another bowl, whisk egg yolks and sugar until pale yellow. Then add in cornstarch.
16
Whisk the hot milk, a little at a time, into the egg mixture while constantly stirring.
17
Once the eggs are tempered, pour the mixture back into saucepan.
18
Add in the cream cheese. Return the saucepan to medium heat, continuously whisk until the custard thickens.
19
Using a flexible spatula, fold in the California Raisins.
20
Transfer the custard filling into a container and cover with plastic wrap, pressed directly onto the surface. Let it cool.
Assembly
21
Once both the doughnut and the California Raisin custard filling are cooled, poke a hole into one side of the doughnut.
22
Using a piping bag, fill in approximately 35 grams of California Raisin custard filling
into each doughnut.
Ingredients
Makes 20 doughnuts
DOUGH
500
g
All-Purpose Flour
Bakers % - 100.0