Steven Ong | Assistant Director, Culinary Studies (Pastry and Baking), SHATEC Institutes
I have been enjoying California Raisins since I was a kid. I knew that most of my snacks weren't too healthy, but little did I know that California Raisins were the exact opposite! It's a nutritious food, and this creation combines all my childhood favourites - California Raisins, mango and pineapple - in a buttery bun.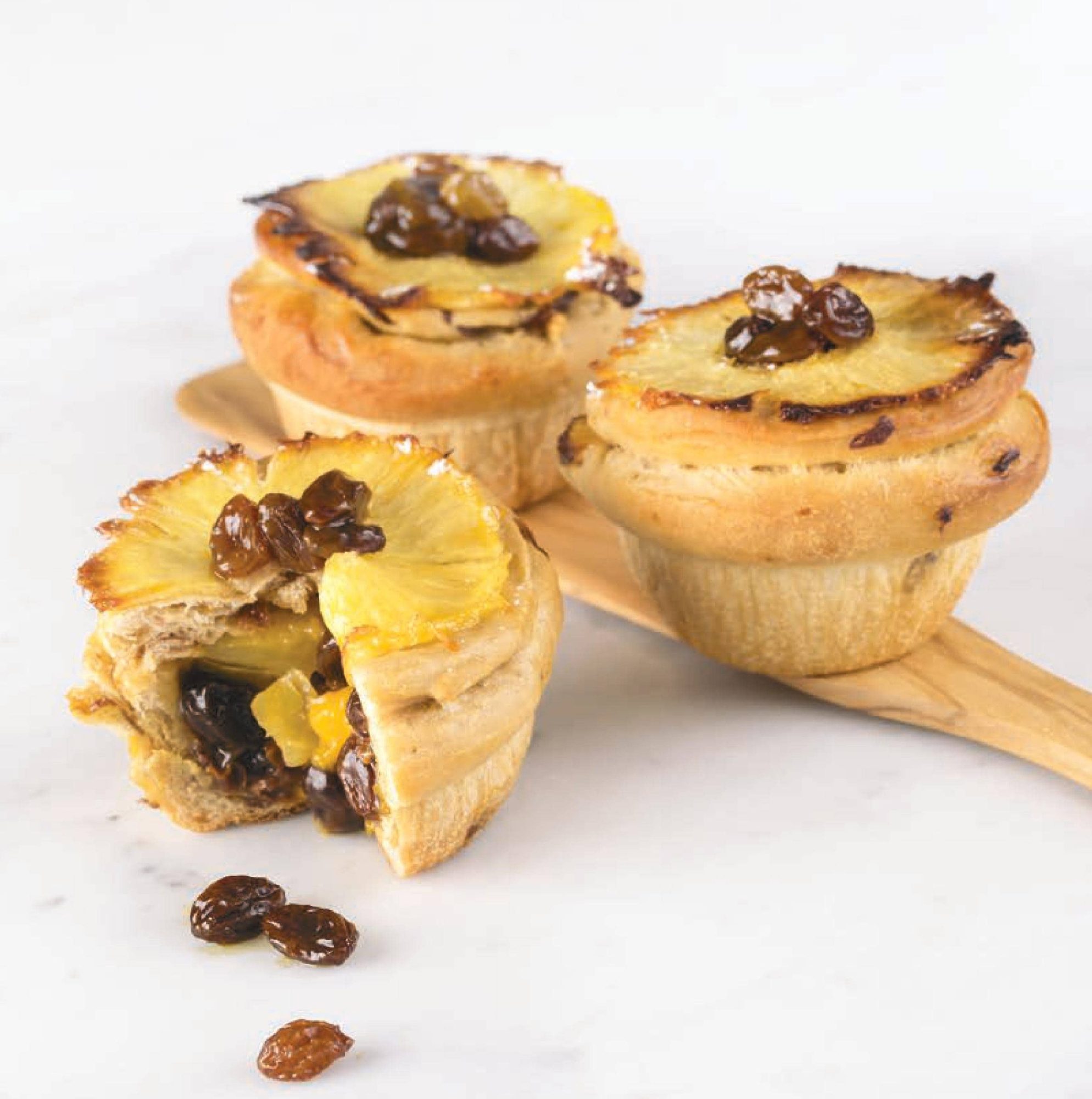 Yields 20 buns
CALIFORNIA RAISIN PASTE
200
g
California Natural Raisins, soaked
110
g
passion fruit puree
CALIFORNIA RAISIN, MANGO & PINEAPPLE COMPOTE
250
g
California Raisin paste
580
g
pineapple (very ripe)
6
g
young ginger, thinly sliced
BRIOCHE DOUGH
100
g
California Natural Raisins
400
g
bread flour, sifted
60
g
unsalted butter, softened pineapple rings
CALIFORNIA RAISIN PASTE
1
Soak California Raisins in warm water for 1 hour. Strain and cover the California Raisins with passion fruit puree for another hour.
2
Using a handheld blender, blitz to a coarse paste. Keep chilled.
CALIFORNIA RAISIN, MANGO & PINEAPPLE COMPOTE
3
Peel, core and cut pineapples and mango into cubes.
4
Cook pineapples, sugar and butter in a large saucepan. Cook at high heat until caramelised. Add California Raisin paste, mango cubes, ginger and white wine vinegar. Cook for another 2 minutes and allow to cool.
BRIOCHE DOUGH
5
Mix all ingredients (except butter and pineapple rings) at low speed for about 5 minutes. Incorporate butter to the dough and mix well. Knead for 5 minutes to get a semi-developed dough.
6
Allow dough to ferment for approximately 2 hours before transferring to a lightly oiled baking tray. Chill overnight in the refrigerator.
7
The next day, roll dough to 2-mm thickness. Using a round cutter, cut out 12-cm pieces. Line the dough on the mould and fill with the California Raisin, mango and pineapple compote. Cover the top with another layer of brioche dough and proof for 1 hour.
8
Brush with egg wash and top with pineapple ring, then dust with icing sugar and bake at 180°C for about 15 minutes.
Ingredients
Yields 20 buns
CALIFORNIA RAISIN PASTE
200
g
California Natural Raisins, soaked
110
g
passion fruit puree
CALIFORNIA RAISIN, MANGO & PINEAPPLE COMPOTE
250
g
California Raisin paste
580
g
pineapple (very ripe)
6
g
young ginger, thinly sliced
BRIOCHE DOUGH