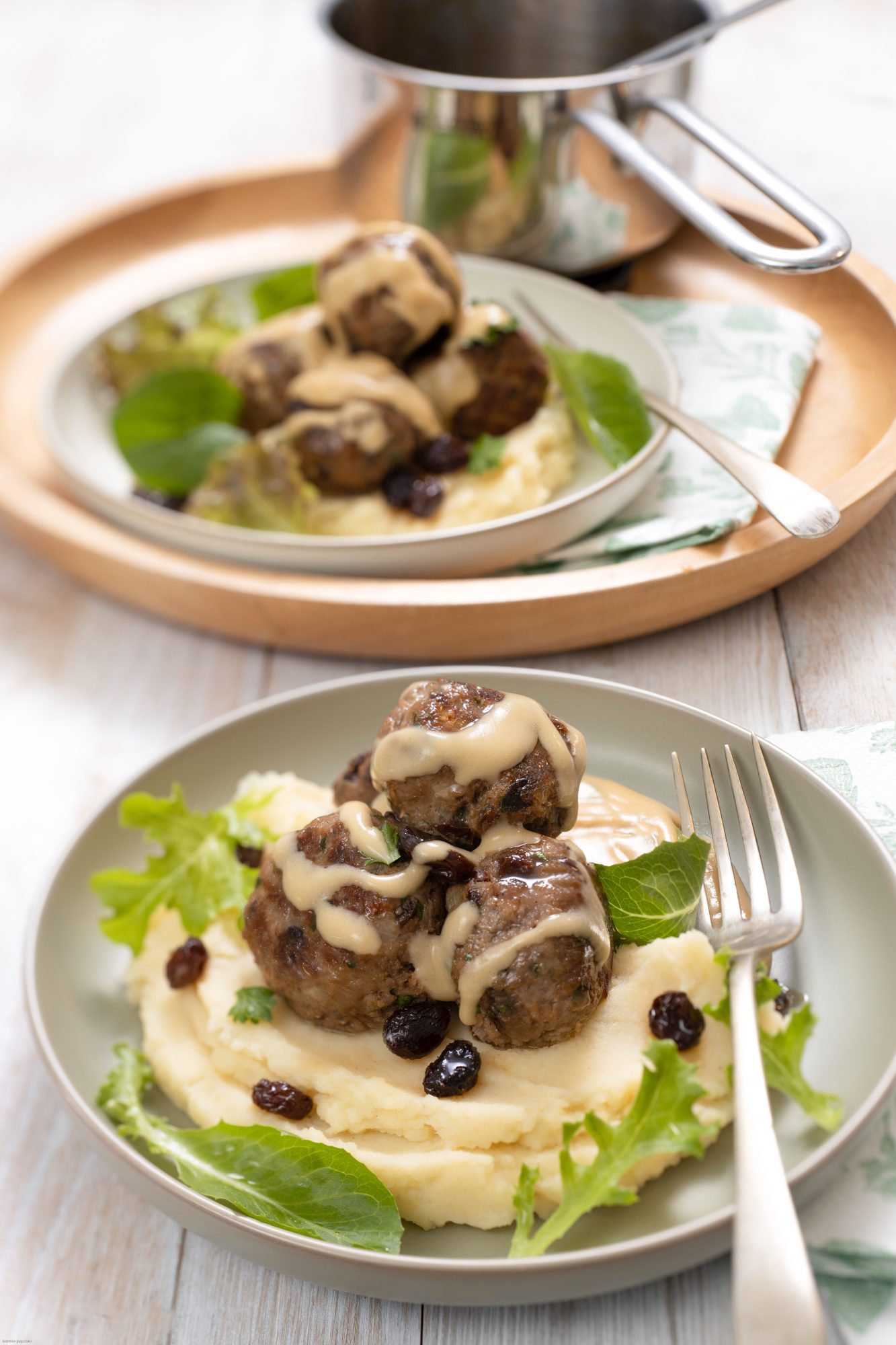 Meatballs:
100
g
California Raisins, roughly chopped
1
small onion (60 g), finely chopped
1
clove garlic, finely chopped
2
slices 2-day old bread (torn into small pieces)
⅓
cup
finely chopped parsley
½
tsp
ground black pepper
Glazed California Raisins:
2
tsp
apple cider vinegar
Cream sauce:
1
To make meatballs: Heat oil in a small pan and cook chopped onion and garlic for about 3 minutes, until softened. Set aside to cool.
2
In a mixing bowl, combine minced beef, onion/garlic mixture and the rest of the ingredients listed (except the frying oil). Mix well and then shape into 2 cm balls.
3
Heat oil in a frying pan and cook meatballs in batches until browned, transferring them onto a serving dish as they cook.
4
Pour off excess oil remaining in the frying pan – leaving only 1 tablespoon behind. Add butter to this oil and stir in the flour over low heat. Pour in stock and milk, stirring until mixture comes to the boil and thickens. Simmer on low heat 5 minutes. Season to taste with salt and pepper. Finally stir in cream and take pan off the heat.
5
To make glazed California Raisins, combine California Raisins and water in a small pan. Bring to the boil and cook on medium heat for 10 minutes. Add sugar and vinegar and continue cooking until liquid is syrupy. Take pan off the heat.
6
Serve meatballs over rice, pasta or mashed potatoes and drizzle on cream sauce. Garnish with glazed California Raisins.
Ingredients
Meatballs:
100
g
California Raisins, roughly chopped
1
small onion (60 g), finely chopped
1
clove garlic, finely chopped
2
slices 2-day old bread (torn into small pieces)
⅓
cup
finely chopped parsley
½
tsp
ground black pepper
Glazed California Raisins: