LIM KIM WAH | EXECUTIVE PASTRY CHEF, SATS CATERING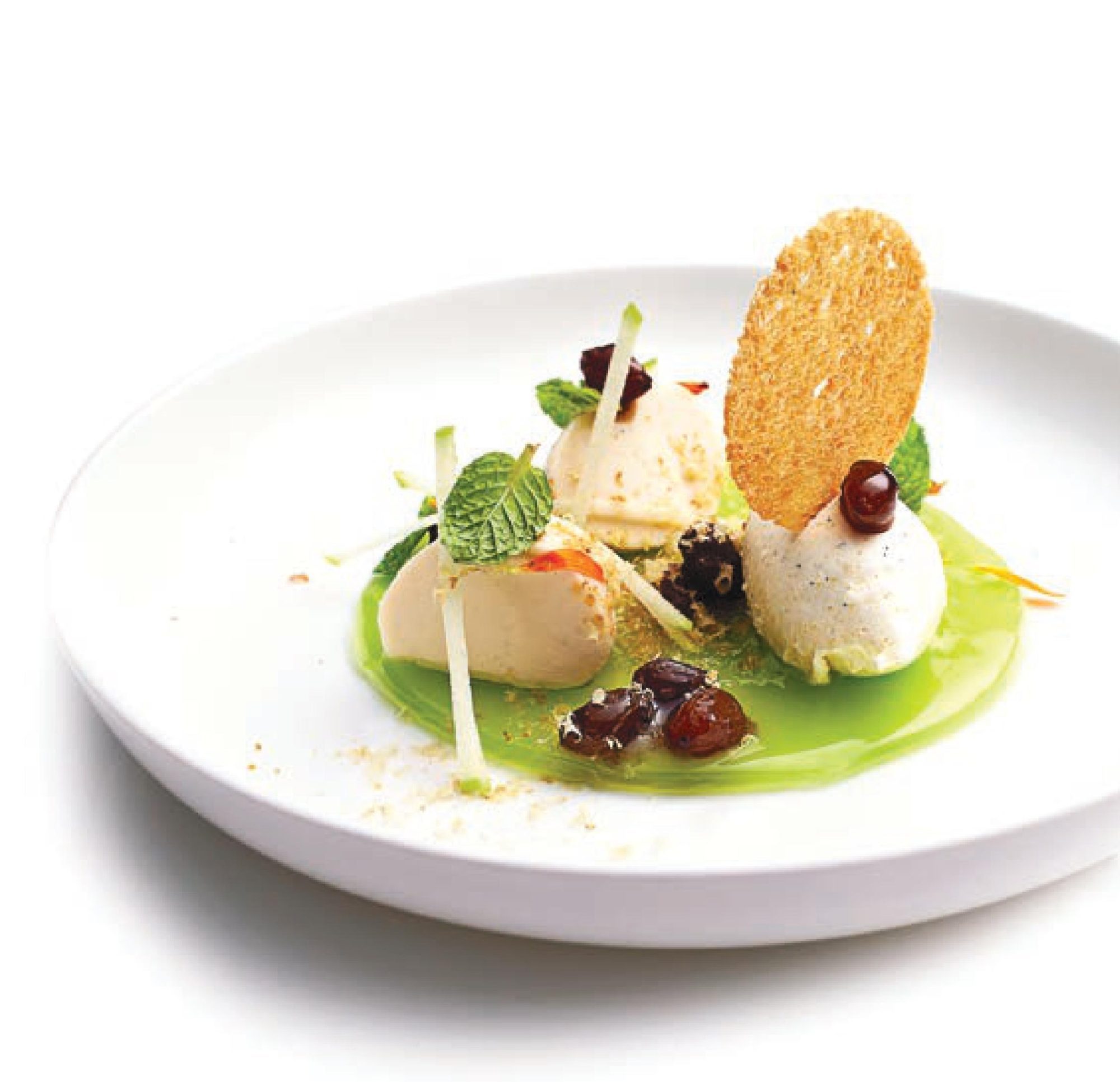 Granny Smith Gelee
450
g
Granny Smith apples
California Raisin Panna Cotta
Vanilla Bean Ice Cream
2
vanilla pods, split and seeds scraped out
Granny Smith Gelee
1
Marinate apple with lemon juice, then use a juice extractor to extract fresh juice. Add citrus acid.
2
Boil the juice with sugar and agar agar powder. Add in gelatin.
California Raisin Panna Cotta
3
Heat milk, cream, orange zest, sugar and California Raisins in a pan on low heat. Remove from heat and let infuse
for 30mins.
4
Blend the mixture in a blender until smooth and strain. Gently reheat the mixture and stir in gelatin until it dissolves.
5
Pour into a tray, set aside to cool.
Vanilla Bean Ice Cream
6
Heat cream in a heavy based saucepan until almost boiling, then remove from heat. Beat in egg yolks, sugar and vanilla seeds. Return the pan to the heat.
7
Stir the mixture over low heat until it thickens enough to coat the back of the wooden spoon. Set aside until completely cooled.
8
Once cooled, transfer the mixture to an ice cream machine and churn. Set aside.
GARNISH
TO ASSEMBLE
10
Set the apple jelly with cake ring onto a clean plate.
11
Scoop the California Raisin panna cotta according to own shape preference.
12
Dress the dessert with a mint leaf and finish with a quenelle of vanilla bean ice cream.
Ingredients
Granny Smith Gelee
450
g
Granny Smith apples
California Raisin Panna Cotta