Chef Panjama Praphapantasak
Chef Instructor, Suan Dusit International Culinary School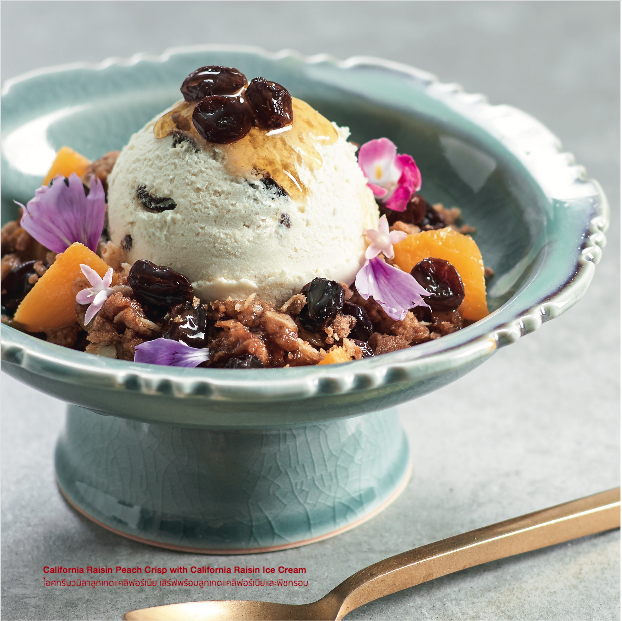 California Raisins and Peaches
320
g
Canned Peaches, cut into cubes
Oatmeal Crisp
California Raisin Ice Cream
Method
1
Combine sugar and egg yolks in a sauce pan and whisk until pale yellow. Add milk and stir until smooth. Place over medium heat and cook until the mixture thickens. Strain through a fine sieve. Add raisins and vanilla extract.
2
Pour the mixture into an ice cream machine and churn until thick. Transfer to a container and keep frozen until time to serve.
3
To prepare the oatmeal crisp, stir our, oatmeal, brown sugar and salt together. Add vanilla and melted butter. Combine all the ingredients well.
4
In a bowl, toss together the peaches, raisins, lemon juice, brown sugar and corn flour. Place on a baking tray and top with the oatmeal crisp.
5
Bake at 165°C for 15 minutes.
Assembly
6
To serve, dish out raisin and peach crisp and place in a serving bowl. Finish with a scoop of California Raisin Ice Cream.
Ingredients
California Raisins and Peaches
320
g
Canned Peaches, cut into cubes
Oatmeal Crisp
California Raisin Ice Cream