Jack Goh | Section Head, Baking & Pastry, School of Hospitality, ITE College West
This dessert highlights the natural flavour and sweetness of California Raisins while enhancing the mellow taste of pumpkin.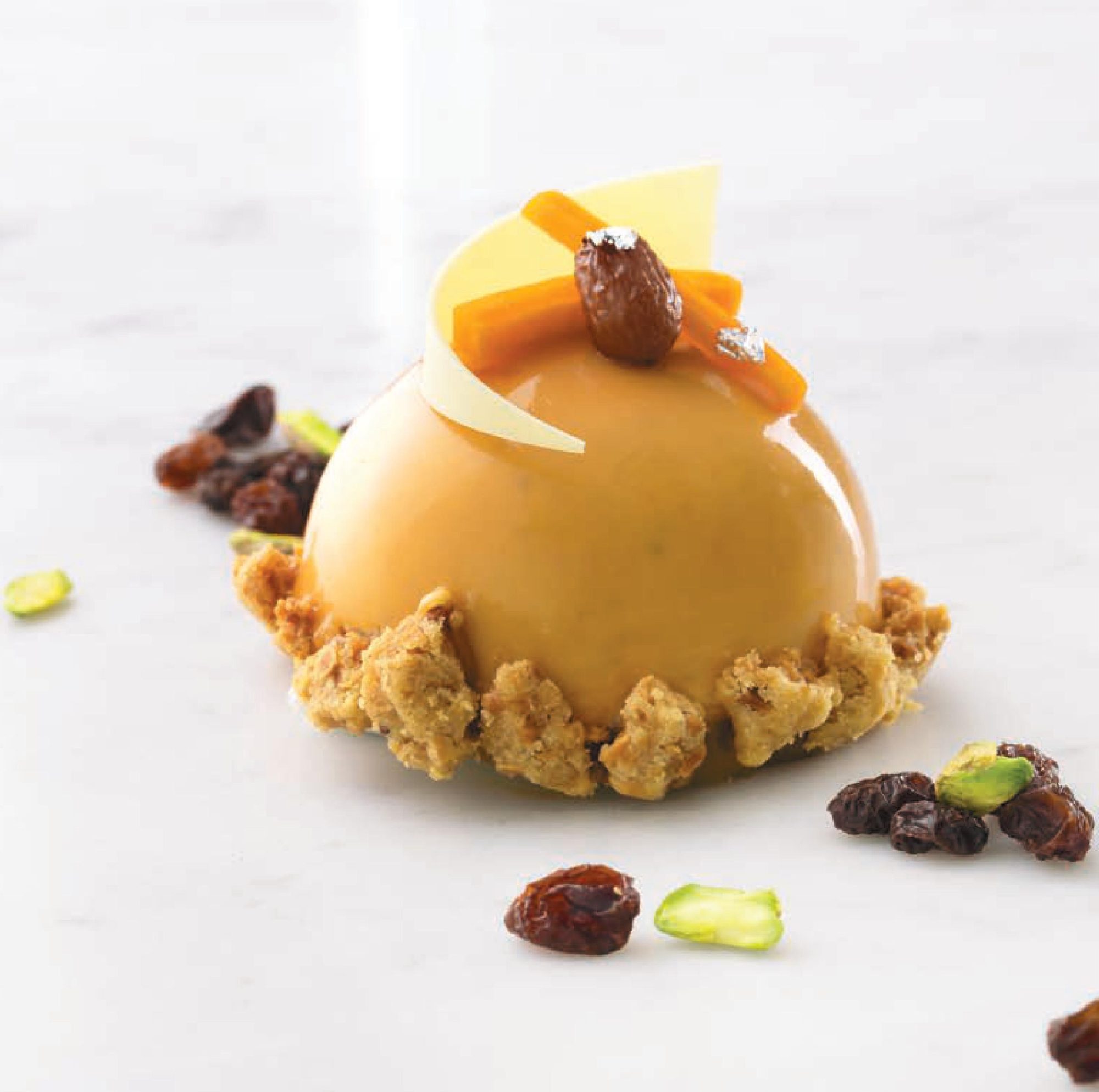 Yields 24 (8-cm) domes
CITRUS PISTACHIO SPONGE
PUMPKIN CREMEUX
4
g
gelatine sheet, pre-soaked
CALIFORNIA RAISIN & RUM MOUSSE
100
g
rum-soaked California Natural Raisins
80
g
California Natural Raisins
8
g
gelatine sheet, pre-soaked
GLAZE
10
g
gelatine sheet, pre-soaked
CITRUS PISTACHIO SPONGE
1
Whisk ground pistachios, icing sugar, eggs, egg yolk and orange zest until the mixture is light. Make a meringue with egg white and sugar.
2
Fold ground pistachio mixture with meringue and then fold in cake flour.
3
Spread onto a 60cm-by-40cm baking tray and bake in a preheated oven at 200°C for 8 minutes.
PUMPKIN CREMEUX
4
Mix egg yolk, sugar and small amount of cream in a bowl. Set .
5
Heat up pumpkin purée and remaining cream.
6
Temper egg yolk mixture with hot pumpkin mixture, then return to heat and cook until it reaches 85°C. Remove from heat, then add gelatine
7
Sieve pumpkin crémeux and fill 3-cm dome moulds. Freeze.
CALIFORNIA RAISIN & RUM MOUSSE
8
Warm up cream and milk to dissolve the sugar.
9
Add xanthan gum, alginate, California Raisins and bloomed gelatine, then blend mixture with a submersible blender.
10
Let it cool before folding in rum-soaked California Raisins and whipped cream.
GLAZE
11
Make a syrup with glucose, sugar and water. Add condensed milk and bloomed gelatine, and mix well. Pour mixture onto white chocolate and stir uniformly.
To Assemble
12
Pipe a layer of California Raisin and rum mousse into a mould and insert frozen pumpkin cremeux, followed by a piece of pistachio sponge. Freeze, then unmould cake and glaze.