CARLA L. VALENCIA
A culinary hybrid of two well-loved Asian treats-Puto and Siopao. This steamed white cake is made with asado filling sweetened naturally with California Raisins. It is given a unique twist with the addition of California Raisins for the cheese topping.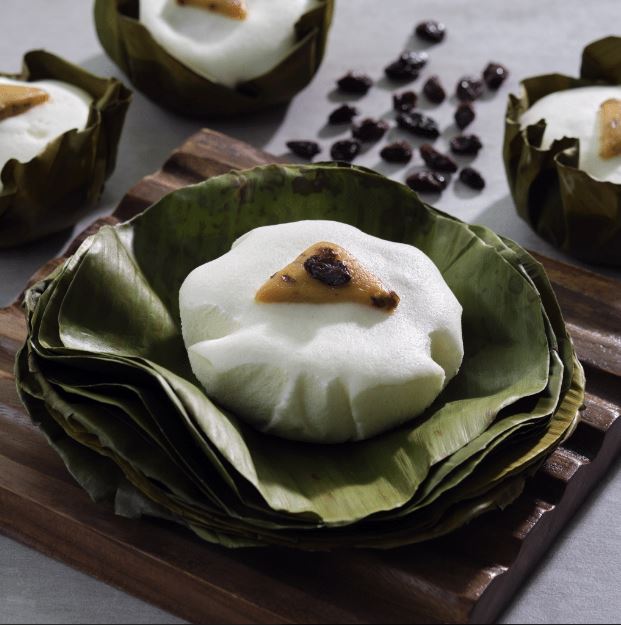 Makes 14 puto pao
CALIFORNIA RAISIN ASADO FILLING
200
g
California Raisins, chopped
CALIFORNIA RAISIN - CHEESE TRIANGLE
7
g
California Raisins, chopped
50
g
Processed Filled Cheese Spread
BATTER
320
g
Cake Flour
Bakers % - 100.0
10
g
Baking Powder
Bakers % - 3.1
125
g
Sugar (A), white refined
Bakers % - 39.1
300
g
Water, cold
Bakers % - 93.8
192
g
Egg Whites
Bakers % - 60.0
1
g
Cream of Tartar
Bakers % - 0.3
125
g
Sugar (B), white refined
Bakers % - 39.1
California Raisin Asado Filling
1
In a pot over medium heat, cook the onions in vegetable oil until softened.
2
Add pork and cook, turning as needed, until lightly browned.
3
Add California Raisins, water (A), soy sauce, oyster sauce, salt, black pepper and laurel leaf. Stir well then bring to a boil.
4
Lower heat, cover, and continue to cook for 10 more minutes.
5
In a bowl, combine cake flour and water (B). Stir until smooth and flour is dissolved.
6
Add the slurry to the pot and stir to distribute. Continue to cook, stirring regularly, for about 2 to 3 minutes or until thickened.
7
Remove from pan and set aside to cool. Discard laurel leaf.
California Raisin - Cheese Triangle
8
In a bowl, mix California Raisins and filled cheese until paste consistency is achieved.
9
Transfer into a thick plastic bag. Using a rolling pin, flatten to a 2 x 4-inch rectangle around 0.12 inch (3 mm) thickness.
10
Chill until firm then cut into fourteen (14) 1 x 1 x 1.5-inch triangles.
Batter
11
Line fourteen (14) 3-inch puto cups with banana leaf. Soften the leaves by heating them onto direct flame and cut into 6-inch circles.
13
In a bowl, combine and sift the cake flour and baking powder then add sugar (A) and water. Mix until smooth then set aside.
14
In a stand mixer fitted with a whisk attachment, mix egg whites and cream of tartar at medium speed until foamy. Add sugar gradually and continue mixing until medium peaks form.
15
Using a flexible spatula, gently fold meringue into the batter.
16
Fill the lined molds with 50 grams of batter or until halfway full.
17
Spoon 85 grams of filling then add approximately 25 grams of batter to cover until ¾ of the mold is filled.
18
Steam at medium heat for 28 minutes.
19
Place a California Raisin - Cheese Triangle on top of each puto then continue steaming for 2 more minutes.
20
Immediately remove from puto cups and enjoy warm.
Ingredients
Makes 14 puto pao
CALIFORNIA RAISIN ASADO FILLING
200
g
California Raisins, chopped