JAMES R. MAGOS
This rich dense butter cake, filled with California Raisins and walnuts soaked in rum, has an incredibly moist texture and rich flavor that isdeeply satisfying. This traditional cake goes well with coffee or tea for breakfast or an afternoon snack or serve it with ice cream for that perfect dessert experience. The caramel rum sauce makes an excellent final touch to this delightful cake.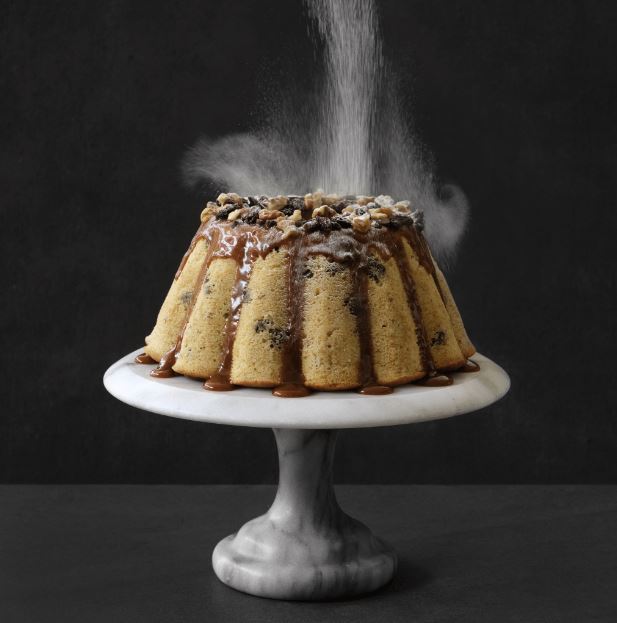 Makes 1 cake
CALIFORNIA RAISIN AND WALNUT SOAKER
75
g
California Raisins (A)
BATTER
220
g
All-Purpose Flour
Bakers % - 100.0
5
g
Baking Powder
Bakers % - 2.3
5
g
Salt, iodized
Bakers % - 2.3
220
g
Unsalted Butter
Bakers % - 100.0
250
g
Sugar, white refined
Bakers % - 113.6
220
g
Whole Eggs
Bakers % - 100.0
10
g
Vanilla Extract
Bakers % - 4.5
CARAMEL RUM SAUCE
100
g
Sugar, white refined
TOPPING
50
g
California Raisins (B)
California Raisin and Walnut Soaker
1
In a bowl, mix together California Raisins (A), walnuts and rum. Soak for 5 to 10 minutes.
2
Drain the rum from the California Raisins and walnuts.
3
Roll the California Raisins and walnuts into all-purpose flour to coat. Set aside.
Caramel Rum Sauce
4
In a thick bottom sauce pan, caramelize sugar until amber in color.
5
Add in the butter and mix with a whisk until butter is well incorporated.
6
Add in heavy cream while continuously mixing for about 2 to 4 minutes or until smooth.
7
Add in rum and salt and blend it well.
8
Remove from heat, transfer the sauce into a clean container, let it cool and set aside.
Batter
9
Preheat the oven to 180 ̊C. Grease an 8-inch bundt pan.
10
In a bowl, sift together all-purpose flour, baking powder and salt.
11
Using stand mixer fitted with a paddle attachment, cream butter, sugar at medium speed until light and fluffy.
12
Turn the speed to low and add the eggs, one at a time, beating until just combined. Scrape the bowl after each addition.
13
Add the flour mixture to the butter mixture in three parts and mix on low speed, just until incorporated.
14
Add vanilla extract and mix well.
15
Using a flexible spatula, fold in coated California Raisins and walnuts.
16
Immediately pour the batter into the prepared pan. Gently tap the pan on the counter to make sure the batter has fully settled into the nooks of the mold.
17
Bake until a tester comes out clean, about 30 to 45 minutes.
18
Remove from the oven and immediately turn out onto a wire rack to cool completely.
19
After cooling, pour the caramel rum sauce on top making sure it drips on the sides.
20
Decorate with California Raisins (B), walnuts and chocolate chips.
Ingredients
Makes 1 cake
CALIFORNIA RAISIN AND WALNUT SOAKER
75
g
California Raisins (A)