KRISTINE I. MATEO
The natural California Raisin yeast starter in this bread gives it a more complex and interesting aroma and flavor. Beer is also used instead of water for the final dough to produce a tangy, rustic and authentic taste. The finished product was baked in a cast iron pot to create a steamy environment that results in a fantastic crispy crust and a coarse texture reminiscent of a true country bread.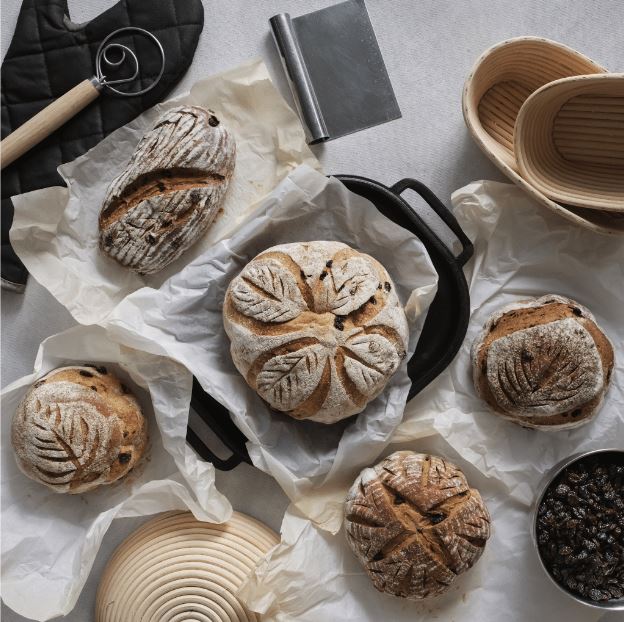 Makes 5 bread
CALIFORNIA RAISIN WATER
150
g
California Raisins (A)
150
g
Water, unchlorinated
SOURDOUGH STARTER
100
g
Bread Flour, untreated
100
g
California Raisin Water
CALIFORNIA RAISIN SOAKER
200
g
California Raisins (B)
FINAL DOUGH
400
g
Bread Flour
Bakers % - 80.0
100
g
Whole Wheat Flour
Bakers % - 20.0
2
g
Bread Improver
Bakers % - 0.4
5
g
Instant Dry Yeast
Bakers % - 1.0
12
g
Salt, iodized
Bakers % - 2.4
500
g
Sourdough Starter, ripe and fed
Bakers % - 100.0
500
g
Shortening
Bakers % - 100.0
California Raisin Water
1
Mix California Raisins (A), water and honey and put in sealed jar.
2
Soak California Raisins for 5 days until small bubbles appear, then drain.
3
Set aside the water and discard the California Raisins.
Sourdough Starter
4
Mix the bread flour and California Raisin water and put in a sealed container or jar. Let it stand for 12 hours.
5
Build the sourdough starter by retaining 80 grams starter and feed with 100 grams Bread Flour and 100 grams water. Discard the remaining culture.
6
Continue the feeding cycle every twelve hours for five days. On the 6th day, continue feeding every twelve hours but do not discard.
7
It can be used once it rises 4 times its initial volume. Feed the remaining sourdough starter once a day.
8
Keep the sourdough starter in cool and dry place, not exceeding 28 ̊C.
California Raisin Soaker
9
In a bowl, soak California Raisins (B) with enough beer to wet the raisins.
10
Cover and set aside for at least 10 minutes.
11
Drain the raisins and set aside the beer for use later with the remaining beer. Chill the beer and maintain temperature at 9 ̊C.
Final Dough
12
In a stand mixer fitted with a dough hook attachment, combine all dry ingredients at low speed. Gradually add beer, honey, 500 grams of sourdough starter and shortening.
13
Change to medium speed until flour fully absorbs the liquid ingredients.
14
Turn to high speed until dough is 90% developed.
15
Return to medium speed and gradually add the California Raisins and continue mixing until well blended and dough has reached the full development.
16
Divide and scale dough 4 x 500 grams. Shape the dough into a tight round and place it seam-side up in linen lined banneton baskets. Cover and set aside to proof for 1 to 2 hours.
17
Preheat the oven at 250 ̊C for 1 hour with four (4) 7-1/2 x 4-inch round cast irons with lid.
18
Take out cast iron from oven, line with parchment paper then gently transfer the proofed dough. Dust the top with flour and score bread with desired design using a
baker's lame.
19
Bake at 240 ̊C for 40 minutes. Bake with cast iron lid for 30 minutes, remove the lid then bake again for another 10 minutes to complete the 40 minutes.
20
Remove bread from cast iron and allow to cool on a wire rack.