TERENCE PANG | EXECUTIVE PASTRY CHEF, RITZ CARLTON, MILLENIA SINGAPORE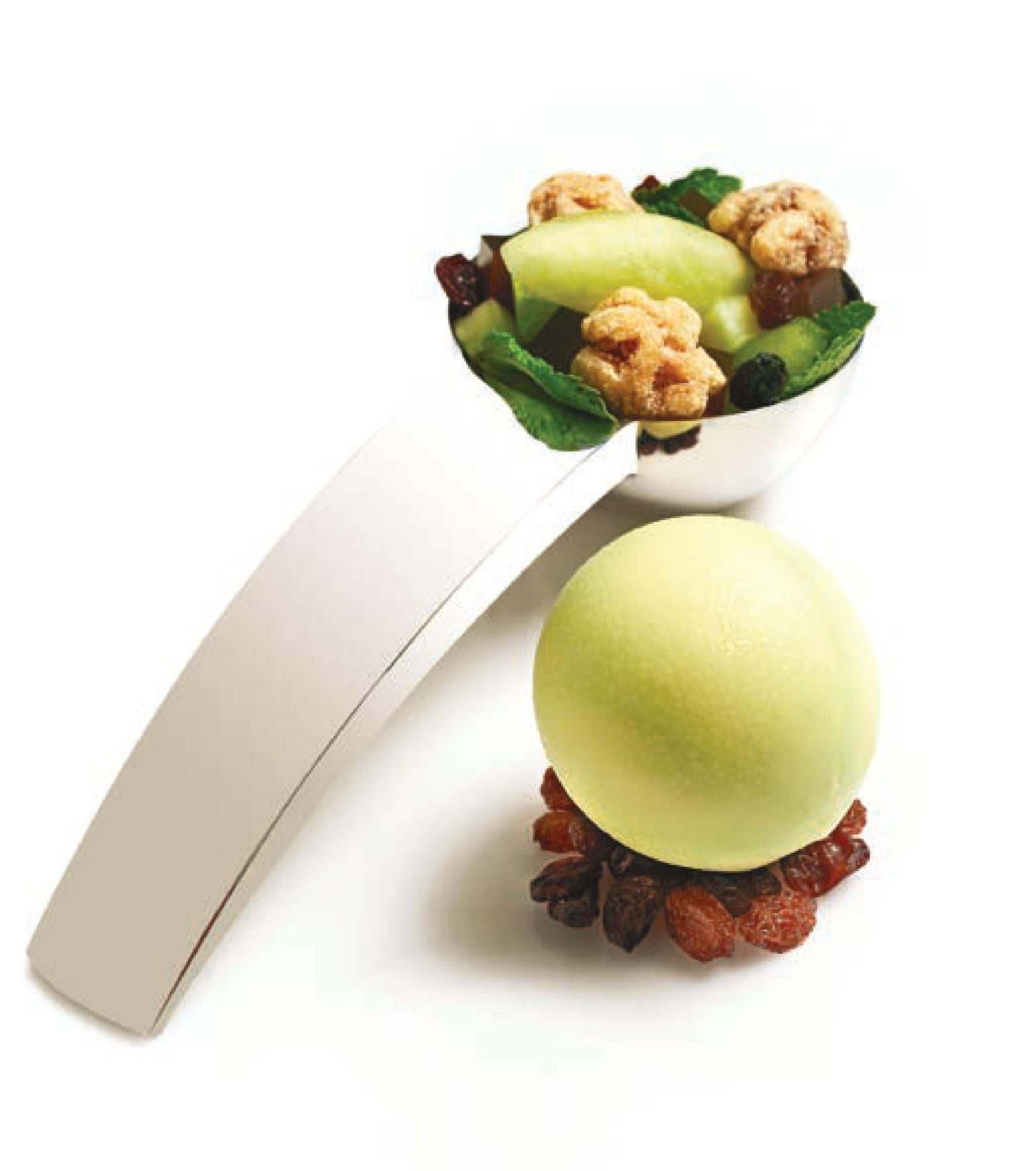 Pimms Raisin Jelly
60
g
California Natural Raisins
Italian Meringue
Pear Parfait
7
g
Poire William liqueur
Walnut Sable
Pimms Agar Agar
Cucumber and Pear Salad
100
g
cucumber, cut into cubes of 1.5cm x 1.5cm
4
pears, cut into olive shape
60
g
California Natural Raisins
40
ml
Poire William liqueur
Pimms Raisin Jelly
1
Warm Pimms up, add in gelatin and stir until it dissolves.
2
Place California Raisins into a small dome mould, then fill it with the Pimms mixture. Freeze the jelly for about 1hr.
Italian Meringue
3
Boil water with 87.5g sugar to 105°C.
4
Meanwhile, whip egg white with 12.5g sugar on low speed.
5
When the sugar syrup reaches 105°C, increase the speed of the beater to high speed and pour the syrup onto the egg white. Beat until a lukewarm mixture is obtained.
Pear Parfait
6
Heat up pear puree and add in gelatin.
7
Fold in Italian meringue, followed by whipped cream. Lastly add in Poire William liqueur.
8
Pipe the pear parfait mixture into a bigger dome mould and insert the Pimms jelly in the centre. Freeze.
9
Place two half pear parfaits together, then dip them into the white tempered chocolate to coat the entire sphere. Set aside in freezer until ready to serve.
Walnut Sable
10
In a saucepan, boil water with sugar, then pour in toasted walnuts.
11
Fry until the walnuts are fully coated with sugar.
Pimms Agar Agar
12
Heat up Pimms, add in sugar and agar agar powder mix. Pour into a container and set aside.
13
When the agar agar is set, cut into cubes of 1.5cm by 1.5cm.
Cucumber and Pear Salad