Dylan Ooi | Owner & Founder, The Gelato Connection Pte Ltd
The addition of California Raisins to the waffle, syrup and jelly lends extra taste, colour and textural interest to this dessert, and showcases a different perspective of a much-loved, classic treat.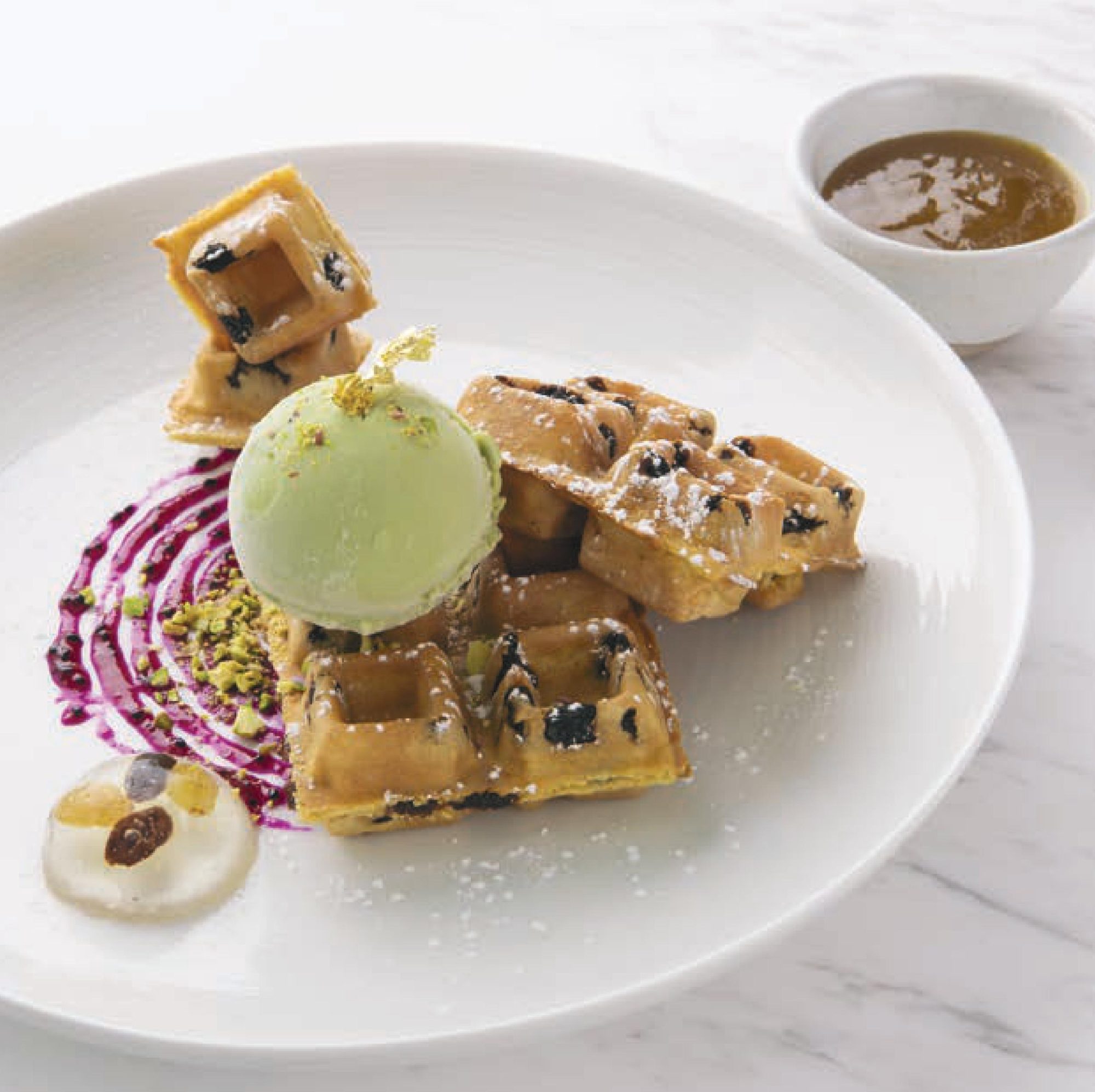 VEGAN PISTACHIO GELATO
790
ml
unsweetened almond milk
VEGAN WAFFLE
75
g
California Natural Raisins
DRAGONFRUIT SAUCE
HONEY CALIFORNIA RAISIN SYRUP
600
g
California Golden Raisins, chopped
CALIFORNIA RAISIN JELLY
50
pcs California Natural Raisins
32
g
vegetarian gelatine powder
VEGAN PISTACHIO GELATO
1
Mix all ingredients well and pasteurise in a water bath to 80°C. Batch freeze and extract the gelato when ready. Put into a blast freezer for 10 minutes, then store in freezer until ready to use.
VEGAN WAFFLE
2
Combine dry ingredients (except California Raisins) in a bowl, and wet ingredients in another.
3
Gradually add the dry mixture into the wet mixture and blend well.
4
Place in chiller and let it rest for 10 minutes.
5
Preheat the waffle maker and then pour the waffle mix in and sprinkle with California Raisins.
6
Cook at 250°C for 3 minutes. Once cooked, remove from machine and cut into desired shape.
DRAGONFRUIT SAUCE
7
Boil the ingredients together for 10 minutes. Remove from heat and allow to cool.
HONEY CALIFORNIA RAISIN SYRUP
8
Boil all ingredients together for 15 minutes. Remove from heat and allow
to infuse for 20 minutes.
9
Blitz the mixture well, then cool and serve.
CALIFORNIA RAISIN JELLY
10
Heat up water and sugar in a pot until sugar dissolves.
11
Gradually add gelatine powder into syrup and stir well. Bring to boil, ensuring there are no lumps.
12
Place 5 California Raisins into each desired mould, then pour syrup in and place in a chiller to let it set for at least 2 hours.
To Assemble
13
Brush dragonfruit sauce onto plate, add waffle pieces and top with a scoop of gelato. Serve with California Raisin jelly and a drizzle of honey California Raisin syrup.