Winnie Goh, Mandarin Orchard Singapore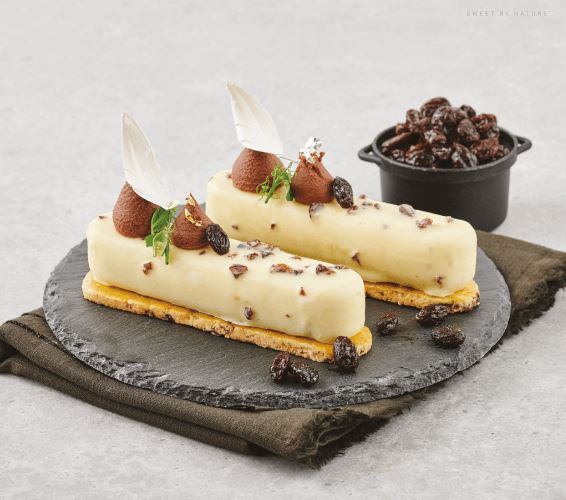 California Raisin Almond Sablé
50
g
California Raisins, finely chopped
50
g
Almond nibs
baked at 150 to 160°C for 15 minutes Melted cocoa butter, for brushing
California Raisin Crispy
70
g
California Raisin paste
Yuzu Jelly
Yuzu Namelaka
9
g
Sheet gelatine, bloomed
300
g
Cold whipping cream (35% fat)
Yuzu Ganache
150
g
Whipping cream (35% fat)
Glaze
35
g
California Raisins, finely chopped
METHOD
1
Make California Raisin Almond Sable. Lightly cream first four ingredients together, fold in flour and almonds, then cover and rest dough for 30 minutes. Roll dough 1.5 cm thick, cut into 10 cm by 3 cm rectangles, and bake at 180°C for 15 minutes, until golden brown.
Let cool. Brush melted cocoa butter thinly over sablés.
2
Make California Raisin Crispy. Melt couverture and cocoa butter together, mix in California Raisin Paste and feuilletine, then spread evenly in a 42 cm by 13 cm tray. Chill until set.
3
Make Yuzu Jelly. Combine water, lemon juice and yuzu juice in a pan. Mix sugar, agar and gelatine together, then stream into pan while whisking constantly over medium heat. Bring to a boil, then let cool to 50°C off the heat. Pour it over the California Raisin Crispy layer. Chill until set.
4
Make Yuzu Namelaka. Melt couverture and cocoa butter together, then set aside. Bring both juices to a simmer together over low heat. Stir in bloomed gelatine to dissolve, then pour mixture over couverture and cocoa butter. Combine well. Stir in cold cream. Cover and chill overnight.
5
Make Yuzu Ganache. Bring cream to a boil. Stir in couverture, followed by butter and yuzu juice. Once smooth, let cool, then chill until cold.
6
Make Glaze. Melt couverture and cocoa butter together. Fold in chopped California Raisins. Let rest for 30 minutes.
Assembly
7
Cut the layered stack into 9 cm by 2.5 cm rectangles.
8
Whip Yuzu Namelaka until thick.
9
Pipe Yuzu Namelaka into 10 cm long by 3 cm wide by 4 cm high pastry rings. Top with a layered piece, jelly side down. Chill until set.
10
Unmould set desserts, then dip into Glaze, and place each one on top of a sablé piece. Chill until set.
11
Pipe Yuzu Ganache on top of desserts. Garnish with more California Raisins as desired.
Ingredients
California Raisin Almond Sablé
50
g
California Raisins, finely chopped