Jasper Jek | Managing Partner & Chef, Super Simple
This dish is a crowd pleaser at dinner parties. Its appeal lies in the toothsome texture and complementary ingredients that bring out the nuances of one another. The punchy flavour of the puttanesca is balanced by the sweetness of the California Raisins and is especially pleasant when paired with nutty, caramelised cauliflower.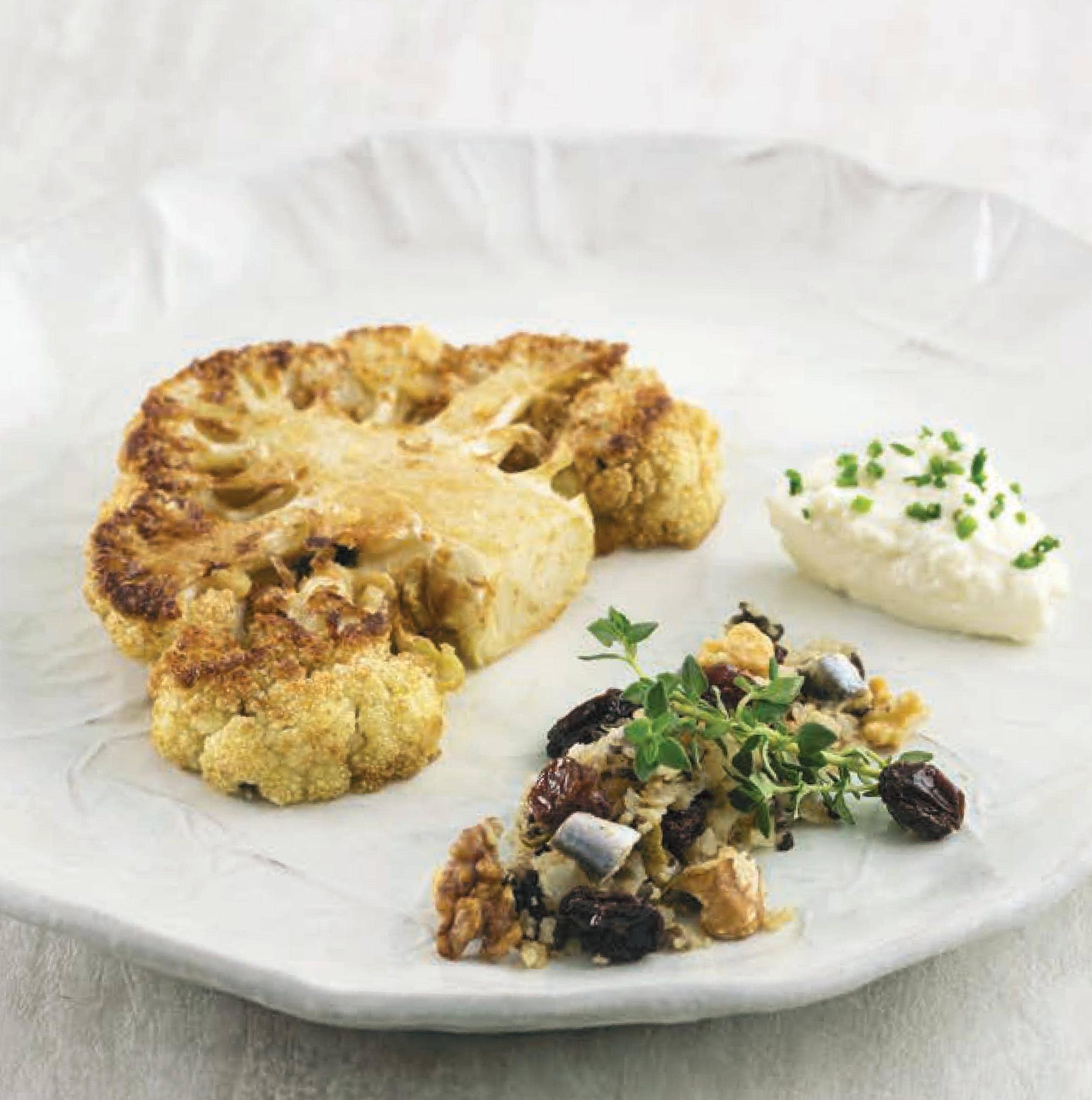 CARAMELISED CAULIFLOWER
2
cauliflower hearts (2-cm thick)
16
pcs cauliflower florets
CAULIFLOWER 'COUSCOUS' with CALIFORNIA RAISINS
120
g
California Natural Raisins, soaked in warm water
2
heads cauliflower, cored and cut into florets
salt and pepper, to taste
Italian parsley, julienned
PUTTANESCA
4
pcs anchovy fillets, finely chopped
60
g
pitted black olives, chopped salt and pepper, to taste
GARNISH
2
dollops cottage cheese Parmesan cheese, grated
CARAMELISED CAULIFLOWER
1
Heat butter, cauliflower heart and florets, thyme and garlic in a pan on medium heat.
2
When butter starts to foam, baste the cauliflower with the foamed butter repeatedly.
3
Remove florets from pan once they turn golden brown. Flip the cauliflower heart and continue basting until it turns golden brown. Remove from heat and set aside.
CAULIFLOWER 'COUSCOUS' with CALIFORNIA RAISINS
4
Blitz cauliflower florets until they resemble couscous.
5
Heat skillet with a drizzle of oil until it starts to smoke.
6
Add blitzed cauliflower onto skillet and stir with a fork. Season with salt and pepper.
7
Remove from skillet when cauliflower turns slightly brown. Add lemon zest, parsley and California Raisins.
PUTTANESCA
8
Heat oil in pan over low heat. Fry the garlic and anchovies slowly over medium heat.
9
When garlic turns slightly golden, add capers and olives.
10
Season with salt and pepper and mix well. Turn up heat and when contents start to sizzle, remove from pan.
To Assemble
11
Mix cauliflower 'couscous' with California Raisins and puttanesca on the side of a serving plate.
12
Place cauliflower heart in the middle. Sprinkle crushed walnuts onto the cauliflower heart and grate Parmesan over.
13
Finish with a dollop of cottage cheese to lend some creaminess to the dish.
Ingredients
CARAMELISED CAULIFLOWER
2
cauliflower hearts (2-cm thick)
16
pcs cauliflower florets
CAULIFLOWER 'COUSCOUS' with CALIFORNIA RAISINS