ROYCE GERALD CHUA
Ensaymadas may have originated from a Spanish Mallorcan pastry but the cheese topping and the use of butter instead of pork lard is a uniquely Filipino twist. This soft ensaymada is delicious on its own but filling it with California Raisins gives a natural sweetness and fruitiness to the product. The sweet and savory elements from the California Raisin Filling and the Cheddar cheese will surely make this bread a staple in every Filipino household.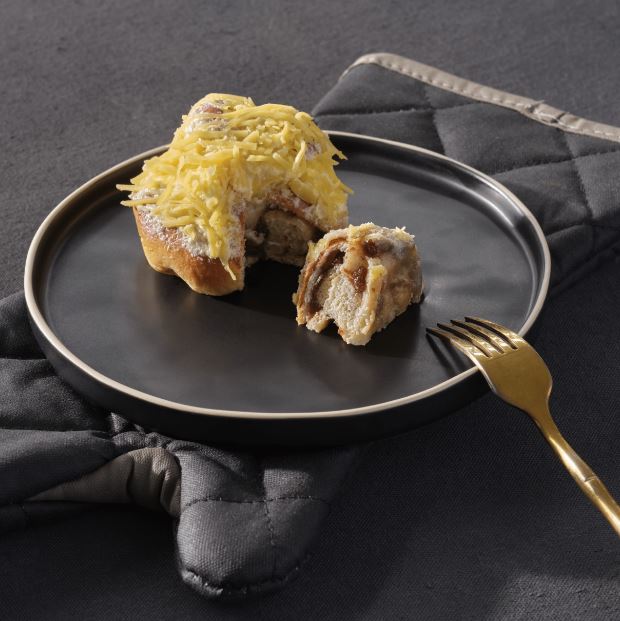 Makes 50 ensaymadas
DOUGH
1500
g
Bread Flour
Bakers % - 100.0
24
g
Instant Dry Yeast
Bakers % - 1.6
300
g
Sugar, white refined
Bakers % - 20.0
15
g
Salt, iodized
Bakers % - 1.0
525
g
Water
Bakers % - 35.0
210
g
Evaporated Milk
Bakers % - 14.0
165
g
Whole Eggs
Bakers % - 11.0
300
g
Unsalted Butter
Bakers % - 20.0
CALIFORNIA RAISIN PASTE
170
g
Sugar, white refined
TOPPING
150
g
Unsalted Butter, softened
200
g
Sugar, white refined
150
g
Cheddar Cheese, grated
California Raisin Paste
1
In a food processor, make a puree by combining California Raisins, white sugar and water.
2
Blend until a thick paste forms. Set aside.
Dough
3
Using a stand mixer fitted with a dough hook attachment, place all ingredients into a mixing bowl except for butter.
4
Mix the dough for around 2 minutes at low speed then add in butter.
5
Continue mixing for another 8 to 10 minutes at high speed or until the dough is developed.
6
Cover the dough and let it rest for 2 hours.
7
Preheat the oven to 190 ̊C. Prepare fifty (50) greased ensaymada molds.
8
Divide into 50 pieces x 60 grams each and round into balls.
9
Using a rolling pin, sheet out the dough and spread 12 grams California Raisin paste on the dough.
10
Roll the dough then form into coil shape and place in the ensaymada molds.
11
Proof the dough until double in volume for approximately 1 hour.
12
Bake for 11 to 14 minutes until golden brown.
13
Remove the ensaymada from the mold and let it cool on a wire rack.Brush with softened butter. Sprinkle with sugar and top with cheddar cheese.
Ingredients
Makes 50 ensaymadas
DOUGH
1500
g
Bread Flour
Bakers % - 100.0
24
g
Instant Dry Yeast
Bakers % - 1.6
300
g
Sugar, white refined
Bakers % - 20.0
15
g
Salt, iodized
Bakers % - 1.0
525
g
Water
Bakers % - 35.0
210
g
Evaporated Milk
Bakers % - 14.0
165
g
Whole Eggs
Bakers % - 11.0
300
g
Unsalted Butter
Bakers % - 20.0
CALIFORNIA RAISIN PASTE
170
g
Sugar, white refined
TOPPING