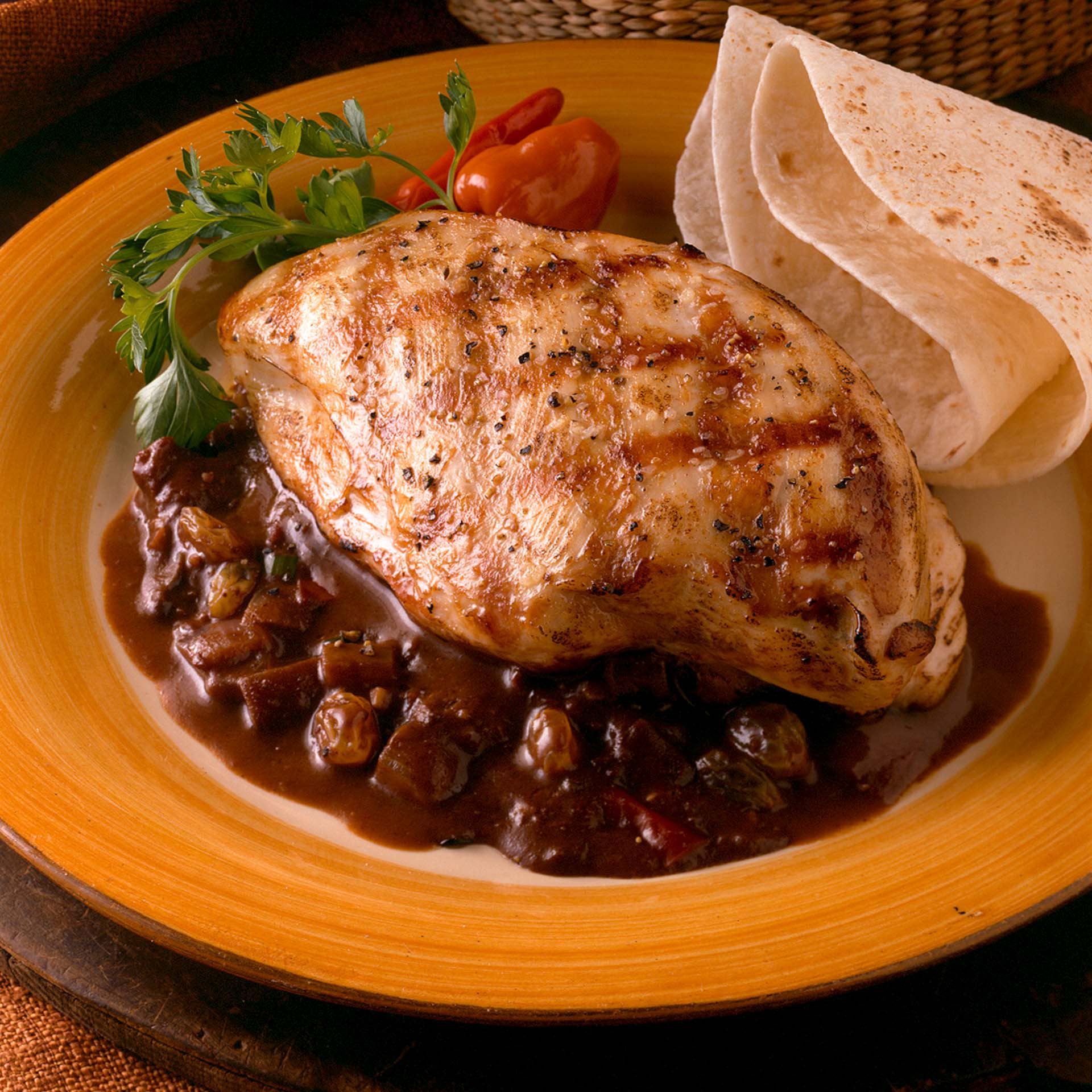 Ingredients
1
cup
California raisins, divided
½
tsp
coriander seeds, crushed
½
tsp
anise seeds, crushed
1
tsp
unsweetened cocoa powder
½
cup
(3 ounces) diced fresh tomatoes
6
boneless, skinless chicken breasts (about 4 ounces each)
Salt and pepper; to taste
Procedure
Mole
1
Lightly coat the bowl and blade of a food processor with non-stick cooking spray and purée 3/4 cup of the raisins to yield 1/4 cup of raisin paste*. (The paste will be very sticky). Set aside.
2
In a large, heavy skillet, heat the oil over high heat; add the onion and sauté, stirring frequently until golden brown. Stir in the crushed coriander and anise seeds. Then add the chilli powder, sugar, cinnamon, garlic and cloves; cook the mixture for 1 minute over moderate heat, stirring constantly. Add the cocoa powder, peanut butter, chicken broth, tomatoes, raisin paste, reserved raisins and salt; simmer uncovered, stirring occasionally for about 10 minutes or until the sauce is slightly thickened and bubbly.
To Serve
3
Season chicken breasts with salt and pepper. Grill or broil the chicken until cooked through. Place each breast on a serving plate and surround with about 1/4 cup of sauce. Serve with warm tortillas.
Note: Commercially prepared California raisin paste is available from foodservice and industrial suppliers. To make your own raisin paste, grind or process in a food processor whole California raisins equal to twice the amount of raisin paste required (3/4 cup natural raisins) until very finely chopped and smooth.
Ingredients
Ingredients
1
cup
California raisins, divided
½
tsp
coriander seeds, crushed
½
tsp
anise seeds, crushed
1
tsp
unsweetened cocoa powder