LALAINE A. BATACLAN
A delectable novel idea of having your tea and cake in one. A fragrant and flavorful light cake highlighting notes of Earl Grey Tea with the perfect balance of sweetness and moistness from California Raisins. Truly a homage to an English Tea tradition in sunny California!!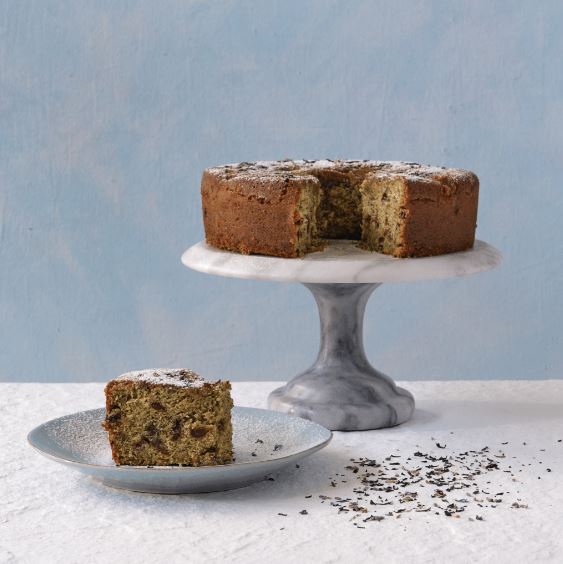 Makes 1 cake
CALIFORNIA RAISIN TEA SOAKER
10
g
Earl Grey Tea Leaves
BATTER
120
g
California Raisins -Tea Infusion
Bakers % - 52.2
207
g
Bread Flour
Bakers % - 90.0
23
g
Cake Flour
Bakers % - 10.0
1
g
Salt, iodized
Bakers % - 0.4
8
g
Baking Powder
Bakers % - 3.5
250
g
Unsalted Butter, softened
Bakers % - 108.7
200
g
Sugar, white refined
Bakers % - 87.0
230
g
Whole Eggs
Bakers % - 100.0
2
g
Vanilla Extract
Bakers % - 100.0
4
g
Lemon Zest
Bakers % - 1.7
15
g
Earl Grey Tea (Leaves, crushed)
Bakers % - 6.5
TOPPING
Earl Grey Tea Leaves, crushed as desired
Confectioners' Sugar as desired
California Raisin Tea Soaker
1
In a bowl, combine California Raisins and Earl Grey tea leaves in water.
2
Cover and soak for at least 8 hours.
3
Drain and set aside California Raisin Tea infusion.
Batter
4
Preheat the oven to 180'C. Grease and flour an 8-inch tube pan.
5
In a bowl, sift together bread flour, cake flour, salt and baking powder. Set aside.
6
In a stand mixer fitted with a paddle attachment, blend butter and sugar on medium speed for 10 minutes or until light and fluffy.
7
Add whole eggs one at a time on low speed until well combined.
9
Add vanilla extract, lemon zest and crushed Earl Grey tea leaves and mix on low speed for 1 minute.
10
Alternately blend in sifted flour mixture and California Raisin Tea infusion on medium speed until well incorporated
11
Dredge California Raisins with flour to coat. Using a flexible spatula, fold California Raisins into the cake batter.
12
Pour the batter into the prepared pan. Gently tap the pan on the counter.
13
Bake until a tester comes out clean, about 35 to 45 minutes.
14
Let the cake cool in the pan for 15 minutes, then turn out onto a wire rack to cool completely.
15
Brush the cake with the remaining California Raisin Tea infusion while the cake is still warm.
16
Sprinkle with crushed earl grey tea leaves and confectioners' sugar before serving.
Ingredients
Makes 1 cake
CALIFORNIA RAISIN TEA SOAKER
10
g
Earl Grey Tea Leaves
BATTER
120
g
California Raisins -Tea Infusion
Bakers % - 52.2
207
g
Bread Flour
Bakers % - 90.0
23
g
Cake Flour
Bakers % - 10.0
1
g
Salt, iodized
Bakers % - 0.4