Chef Piroon Rangsityothin
Executive Chef, Siam Niramit Bangkok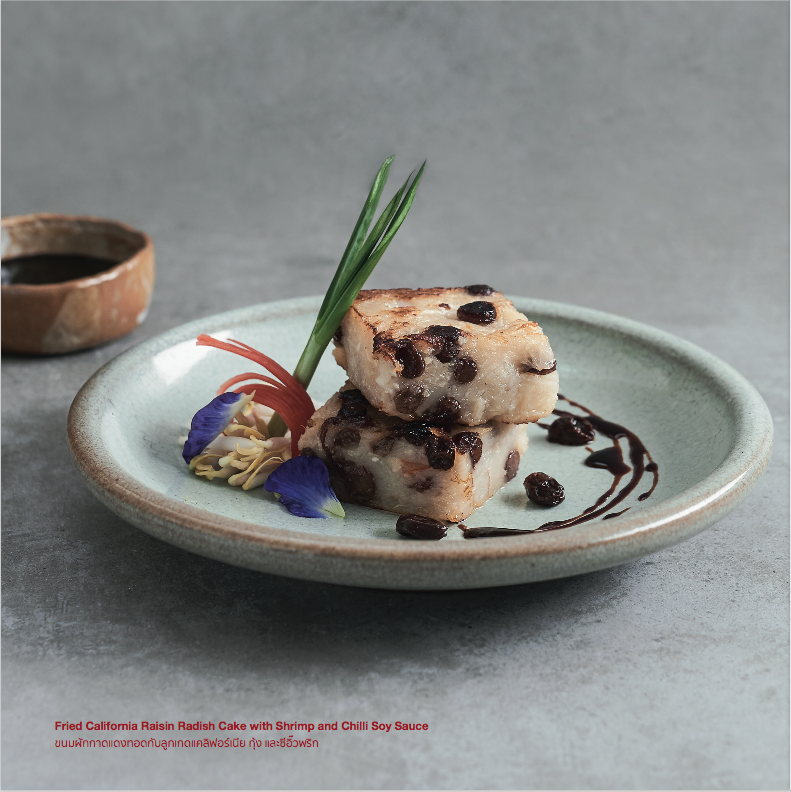 Fried California Raisin Radish Cake
Chilli Soy Sauce
Fried California Raisin Radish Cake
1
Extract the moisture from the shredded radish as much as possible so that the final weight of the radish should be 300g. Set aside.
2
In a mixing bowl, combine rice flour, tapioca our, water, egg whites, salt and pepper. Mix well and then add the raisins, dried shrimp and radish.
3
Cook in a pan over low heat, stirring continuously until it thickens.
4
Transfer onto a greased tin and steam for 45 minutes, or until cooked through. Set aside to cool.
5
Cut the radish cake into smaller pieces and stir fry in a hot pan with oil, adding bean sprouts and Chinese chives.
6
Top with pepper and serve with Chilli Soy Sauce.
Chilli Soy Sauce
7
Mix all the ingredients, except for the red chilli, together and simmer until the mixture thickens. Allow to cool down and add the chilli before serving.
Ingredients
Fried California Raisin Radish Cake