Chef Somsak Rarongkam
Executive Chef, The Grand Fourwings Convention Hotel
President, Thailand Chefs Association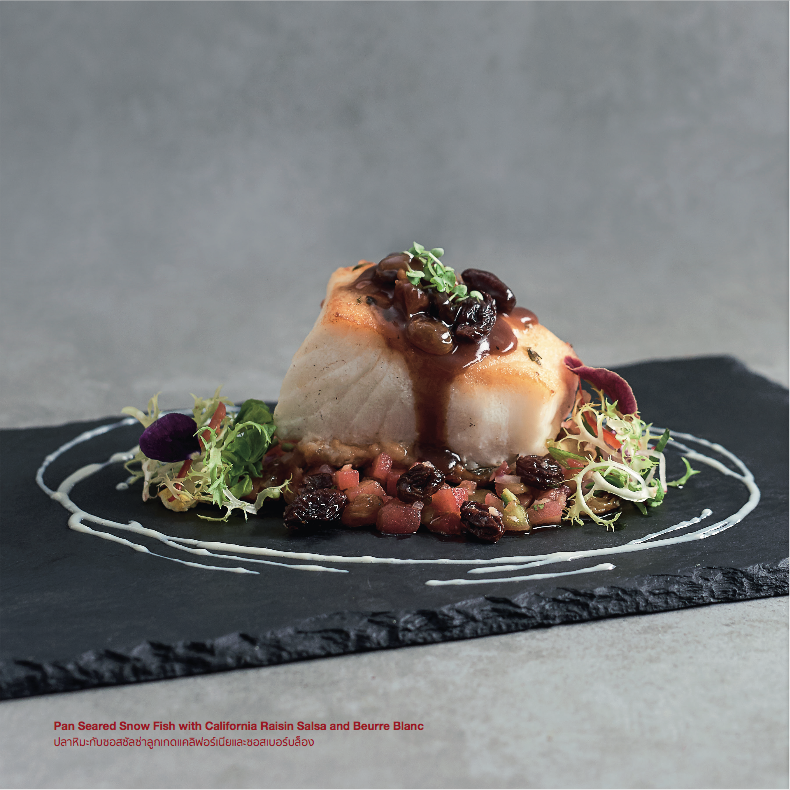 California Raisin Salsa
80
g
Ripe Tomatoes, diced with seeds removed
60
g
Red Onions, finely diced
10
g
Jalapeno Pepper, finely diced with ribs and seeds removed
5
g
Coriander Leaves, coarsely chopped
15
ml
Sriracha Chilli Sauce
Pan Seared Snow Fish
500
g
Snow Fish Fillets, with skin removed
4
sprigs Fresh Spring Thyme
Beurre Blanc
300
g
Cold Butter, cut into pieces
4
sprigs Fresh Spring Thyme
California Raisin Salsa
1
Combine all the ingredients together and set aside in the chiller for at least 2 hours.
Pan Seared Snow Fish
2
To prepare the fish, season the fish fillets with salt, pepper and red pepper flakes.
3
Heat butter and oil in a skillet pan and fry fish fillets on both sides until golden brown. Intermix the fish fillets with sprigs of fresh thyme.
Beurre Blanc
4
Have the butter ready on hand before you start preparing the beurre blanc.
5
In a sauce pan, combine the vinegar, wine, shallots, fresh spring thyme, salt and pepper and simmer until the liquid has reduced to about 2 spoonfuls.
6
Reduce to low heat and whisk a piece of butter into the reduction. Continue whisking butter into the mixture one at a time, allowing each piece to incorporate completely before adding more.
7
Remove pan from the heat. Whisk in lime juice. Taste to adjust the seasoning and then strain the beurre blanc through a fine sieve. Set aside.
Assembly
8
Spoon the California Raisin Salsa in the centre of a plate and place the fish fillets on top.
9
Top with more salsa and serve with the beurre blanc sauce.