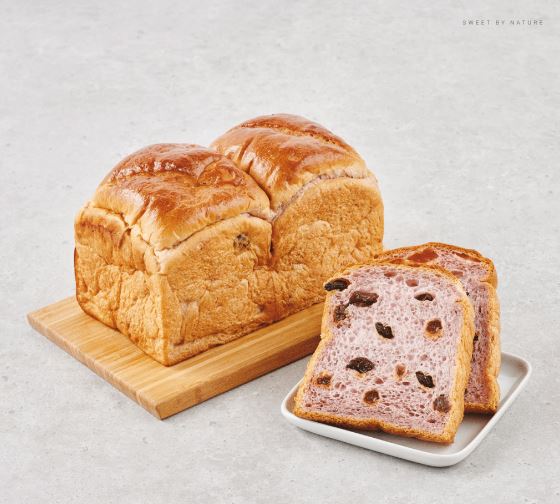 QTY: 5 Loaves
Old Dough
500
g
Napoleon flour (Japanese bread flour, 11.8% protein)
3
g
SAF Red instant yeast
1.50
g
Liquid malt extract
Tangzhong
200
g
High-gluten bread flour (11 to 12% protein
Main Dough
220
g
California Raisins
soaked in room-temperature water for 8 minutes, then drained
600
g
Masuda Canada 100 bread flour (13.2% protein)
350
g
High-gluten bread flour (11 to 12% protein)
200
g
Tangzhong from above
100
g
Millac whipping cream (38% fat)
100
g
Old Dough from above
20
g
SAF Gold instant yeast
330
g
Steamed diced purple sweet potato Beaten egg, for glazing
1
Make Old Dough. Knead all ingredients together on low speed for 10 to 15 minutes to make a smooth ball of dough that cleans the mixing bowl. Chill for 12 to 14 hours, covered.
2
Make Tangzhong. Combine flour, salt and sugar in a bowl. Bring water to a boil and pour it into the dry ingredients, stirring to mix well. Let cool to room temperature, then chill overnight, covered.
3
Make Main Dough. Combine all ingredients except butter and purple sweet potato, and knead on low speed until dough comes together, about 5 minutes.
4
Knead on high speed for 6 to 7 minutes, until dough develops more elasticity.
5
Add butter and purple sweet potato dice. Continue kneading dough until it reaches the windowpane stage.
6
Mix in California Raisins for about 1 minute on low speed to incorporate. Final dough temperature should be about 26°C. Shape dough into a round, cover and let proof for 1 hour.
7
Divide dough into 10 portions, about 240 g each. Shape into rounds, cover and let rest for 20 minutes.
8
Have ready 5 non-stick loaf pans, 214 mm long by 122 mm wide by 130 mm deep.
9
Flatten each dough portion into a long rectangle, let rest for 10 minutes.
10
Sprinkle about 22 g California Raisins over each rectangle, then roll them up into tight logs. Place 2 logs into each loaf pan.
11
Let proof for 1 hour, until loaves have filled pans about 80% full.
12
Preheat oven to 160°C (top element) and 225°C (bottom element).
13
Brush breads with beaten egg. Slash each bread twice diagonally. Bake for about 34 minutes, until golden brown.
14
Remove bread from oven and immediately unmould onto a rack to cool.
Ingredients
QTY: 5 Loaves
Old Dough
500
g
Napoleon flour (Japanese bread flour, 11.8% protein)
3
g
SAF Red instant yeast
1.50
g
Liquid malt extract
Tangzhong
200
g
High-gluten bread flour (11 to 12% protein
Main Dough