Chef Sakchai Ditsakul
Board Committee, Thailand Chefs Association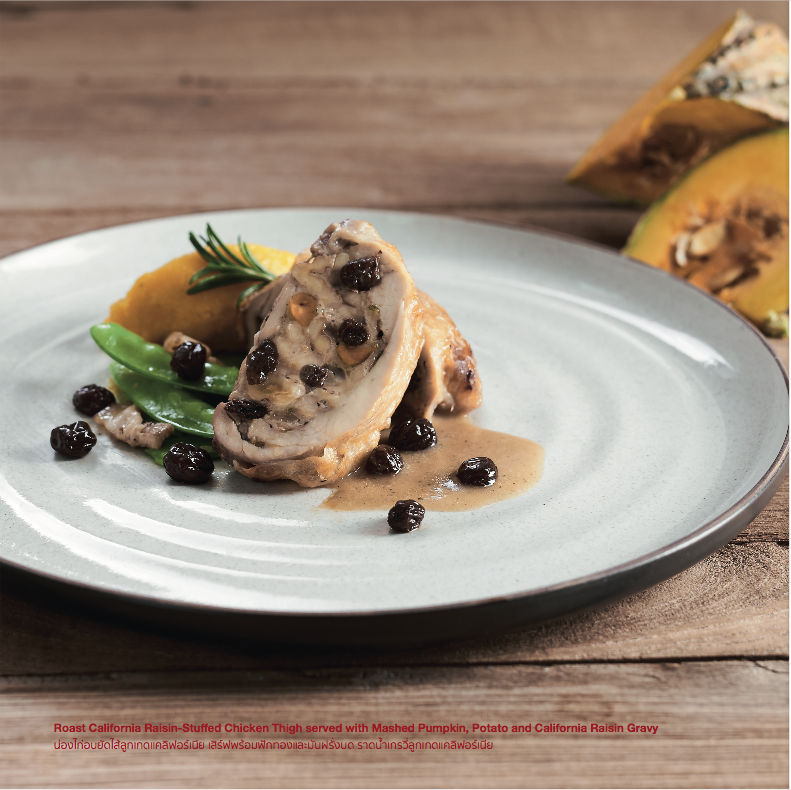 California Raisin Stuffed Chicken Thigh
60
g
California Raisins, soaked in brandy
15
g
Almond Slivers, toasted
Mashed Pumpkin and Potato
California Raisin Gravy
80
g
California Raisins, soaked in brandy
California Raisin Stuffed Chicken Thigh
1
Debone the chicken thigh, leaving the skin on, and season with salt and pepper. Marinate overnight in the chiller.
2
To prepare the stuffing, saute onions, mushrooms, celery and leek, adding almond slivers and rosemary last.
3
Fill the chicken with the prepared stuffing, securing the ends, and roast at 220 C for 25 minutes, or until cooked.
Mashed Pumpkin and Potato
4
Steam pumpkin and potato until cooked and then mash the two together.
5
Add cream and melted butter. Season with salt and pepper.
California Raisin Gravy
6
Clean garden peas and saute with bacon, onions and garlic. Season with salt and pepper.
7
Prepare 250 ml of gravy, add the brandy soaked raisins followed by the cream and butter to adjust the flavour.
Assembly
8
Cut the stuffed chicken in half and arrange on a serving plate, along with the mashed pumpkin and potato.