Chef Booncherd Sornsuwan
Executive Chef, The Twin Tower Bangkok Hotel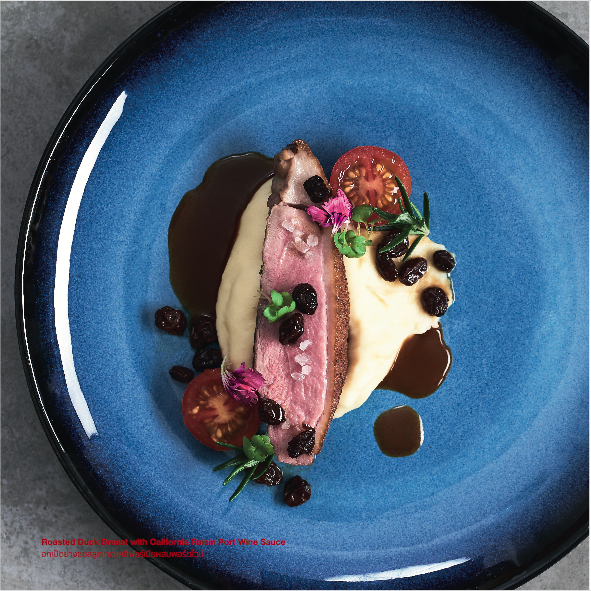 Roasted Duck Breast
720
g
4 pcs Cherry Duck Breast, 180 g per piece
Mashed Potato
Vegetables
Roasted Duck Breast
1
To prepare the raisin port wine sauce, heat oil in a sauce pan. Flambé the shallots with the port wine.
2
Add the raisins and blend until the sauce is smooth. Strain the sauce with a sieve.
3
Heat up the sauce pan again and sear the duck breast until golden brown. Season with salt and pepper. Finish off by roasting the duck in the oven at 170°C for 15 minutes.
4
After removing from the oven, rest the duck for 10 minutes.
Mashed Potato
5
Peel and cut the potatoes into large pieces. Cook the potatoes in salted boiling water until done.
6
Mash the potatoes and add butter, cream, salt and pepper.
Vegetables
7
Grill the vegetables separately until cooked.
Assembly
8
Spoon mashed potato on a serving plate.
9
Slice the duck breast and place them on top of the mashed potato. Arrange the grilled mixed vegetables around the plate.
10
Pour the raisin port wine sauce over and garnish with more raisins.
Ingredients
Roasted Duck Breast
720
g
4 pcs Cherry Duck Breast, 180 g per piece
Mashed Potato
Vegetables