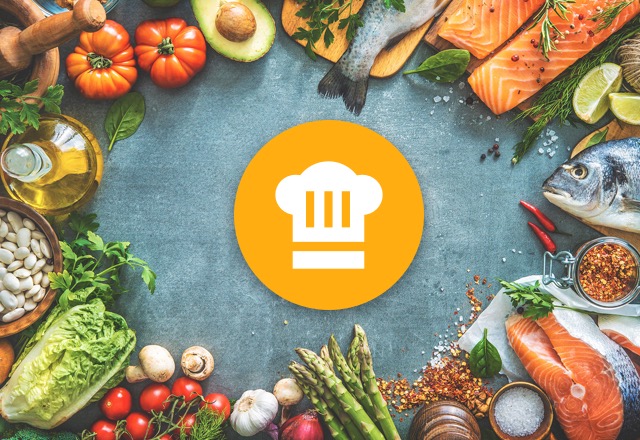 Ingredients
Raisin Rice
¾
cup
yellow onion, minced
1 ½
cups
long grain jasmine rice
Spicy Sauce
1
cup
mirepoix of 1 carrot, 1/4 stalk of leek, 3 sprigs parsley, 1 shallot and 1 clove garlic)
Shrimp
32
shrimp (15/20 count); shelled and deveined, shells reserved for sauce
Salt and freshly ground pepper to taste
¼
cup
chopped fresh cilantro; for garnish
Procedure
Raisin Rice
1
Preheat oven to 325°F.
Heat chicken stock in a small saucepan. Add raisins and let stand; remove with slotted spon and set aside. Reserve stock. Heat oil in medium saucepan and sauté onions. Add rice, sauté lightly and then reserved stock, add until rice is well coated in liquid. Heat to simmer; add back raisins and salt to taste. Cover tightly and bake at 325°F for 20 minutes. Remove lid; stir in butter, and adjust seasonings as needed. Keep warm.
Spicy Sauce
2
Shell and devein shrimp. Set shrimp aside and put shrimp shells, chiles, mirepoix ingredients and water into a large pot. Bring to boil; reduce heat and simmer for 20 minutes. Remove from heat and strain liquid through a fine-mesh strainer into clean pot, discarding vegetables, etc. Heat and reduce stock to 1/4 cup. To finish sauce, whisk in heavy cream and yogurt; reduce to desired consistency.
Shrimp
3
Season shrimp with salt and pepper. Heat oil in a large sautépan. Add shrimp, one at a time, and cook for 1 minute on each side. Remove from pan and drain on paper towels.
To Serve
4
Spoon about 1/3 cup Raisin Rice in the center of each of 8 individual serving plates and arrange 4 shrimp on top of each. Spoon about 1/3 cup sauce onto each; sprinkle with cilantro and serve hot.
Ingredients
Ingredients
Raisin Rice
¾
cup
yellow onion, minced
1 ½
cups
long grain jasmine rice
Spicy Sauce
1
cup
mirepoix of 1 carrot, 1/4 stalk of leek, 3 sprigs parsley, 1 shallot and 1 clove garlic)
Shrimp
32
shrimp (15/20 count); shelled and deveined, shells reserved for sauce
Salt and freshly ground pepper to taste