Chef Pakpoom Jitprapai
Culinary Director, PJ Culinary Studio by Terrace 61
Advisor, Siam Business Administration Technological College (SBAC)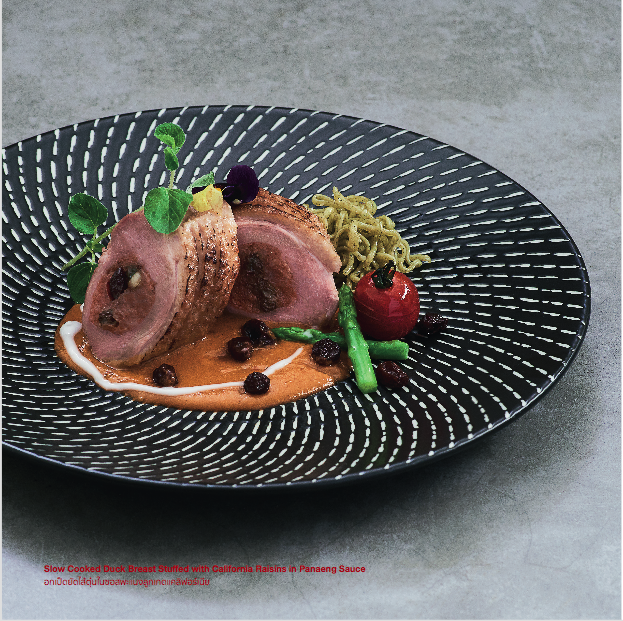 Slow Cooked Duck Breast
20
g
Ground Peanuts, roasted
1
g
Coriander Seed Powder
Duck Breast (Stuffed)
Vegetables
20
g
California Raisin Rum Paste*
Vegetable Noodles
60
g
Vegetable Egg Noodles
Garnish
2
g
Kaffir Lime Leaves, nely sliced
2
g
Red Chilli, seeded, nely sliced
Duck Breast (Stuffed)
1
Marinate duck breast with curry paste and 1 pinch of salt.
2
Make an incision in the duck breast to create a pocket inside the breast meat.
3
Make the stuffing by mincing the duck thigh and seasoning with red curry paste, fish sauce, palm sugar and egg whites. Once well combined, add pumpkin seeds and raisins.
4
Put the stuffing in a piping bag and insert into duck breast. Reserve in the refrigerator.
5
Prepare panaeng sauce by heating oil and then adding red curry paste. Cook over low heat until fragrant. Add coconut milk and season with coriander seed powder, fish sauce, palm sugar, ground roasted peanuts, raisins and shredded kaffir lime leaves.
6
Place duck breast in panaeng sau