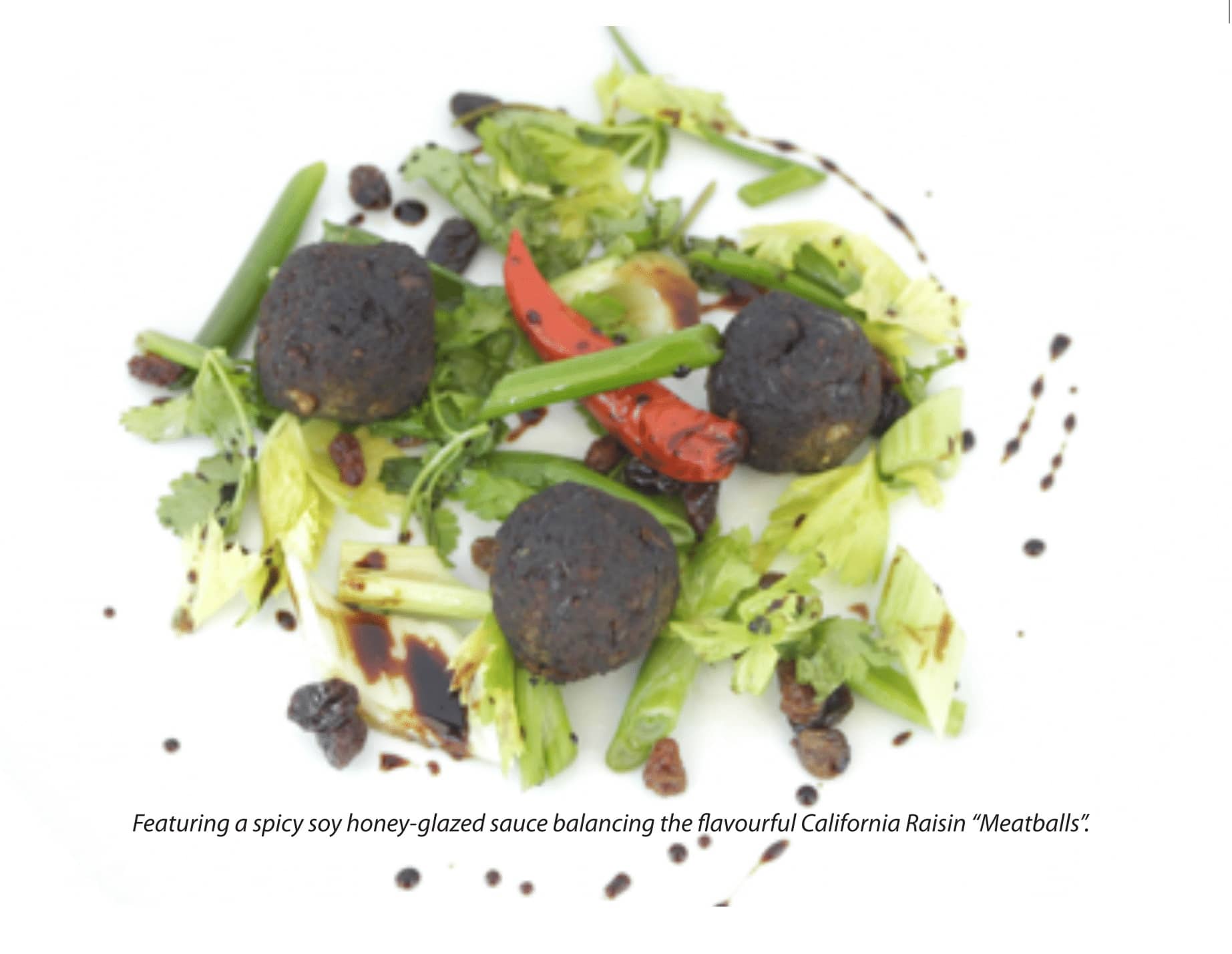 YIELD: 1345 g (Approximately 84 Meatballs)
EQUIPMENT NEEDED : Cutting board, chef knife, medium and large mixing bowls, sheet pan, two sheets of parchment paper, disposable food handling gloves, ice cream scoop (#60)
INGREDIENTS FOR SALAD
2
stalks Celery Stalks and Leaves, divided and thinly sliced
4
stalks Scallions, divided and thinly sliced (Approximately 62 g)
INGREDIENTS FOR VEGAN MEATBALLS
180
g
California Raisin Paste
115
g
Soy Sauce, low-sodium
310
g
Canned Chickpeas, drained and chopped
1
Red Chilli, thinly sliced into rounds
10
g
Ginger, peeled and finely grated
85
g
Panko Bread Crumbs (Japanese Breadcrumbs)
4
stalks Scallions, finely chopped
5
g
Cilantro, roughly chopped
SALAD
1
Toss all the ingredients in a medium bowl and season with salt.
METHOD AND ASSEMBLY
2
Pre-heat oven to 180°C. Use a food processor to work in two batches. Process the mushrooms and chickpeas until chunky. Transfer the mixture to a lightly oiled parchment-lined sheet pan.
3
Bake until the chickpeas are slightly darkened and the mushrooms are tender (approximately 30 minutes); remove from oven and set aside to cool. Leave the oven on.
4
In a small saucepan, combine chillies, soy sauce, maple syrup, vinegar and bring to a boil. Reduce heat to medium-low and simmer, stirring frequently, until slightly thickened and foamy on top (approximately 10 minutes. Once the spicy soy glaze sauce is done, remove from heat and set aside to cool.
5
Combine the ginger, garlic, chopped scallions, cilantro, salt and oil in a food processor. Process until fully incorporated. Use a large bowl to combine the processed ingredients, California Raisin Paste, panko and chickpea-mushroom mixture with your hands. Mix until fully incorporated. Chill the mixture for 25 minutes to firm up.
6
Use an ice cream scoop (#60) to divide the mixture evenly. Shape into rounds and place on a parchment lined-sheet pan. Arrange the balls evenly and brush with 'A of the spicy soy glaze sauce. Bake the"meatballs" until firm and slightly browned.
7
Arrange the"meatballs" on a bed of celery salad and drizzle with a third of the remaining spicy soy glaze sauce. Serve the remaining sauce on the side.
TIPS
8
Prepare the California Raisin Paste ahead of time,
9
Use an ice cream scoop (#60) to ensure uniform portions.
10
A smaller size "meatball" can be served as an appetiser.
VARIATIONS
11
The accompanying salad can be interchanged based on dietary requirements.
12
The red chilli can be eliminated if spiciness is not desired.
13
A variety of fresh mushrooms can be used depending on availability.
Ingredients
YIELD: 1345 g (Approximately 84 Meatballs)
EQUIPMENT NEEDED : Cutting board, chef knife, medium and large mixing bowls, sheet pan, two sheets of parchment paper, disposable food handling gloves, ice cream scoop (#60)
INGREDIENTS FOR SALAD
2
stalks Celery Stalks and Leaves, divided and thinly sliced
4
stalks Scallions, divided and thinly sliced (Approximately 62 g)
INGREDIENTS FOR VEGAN MEATBALLS