Traditional favorite originating from Gunung Kidul Yogyakarta. Used to be a staple food instead of rice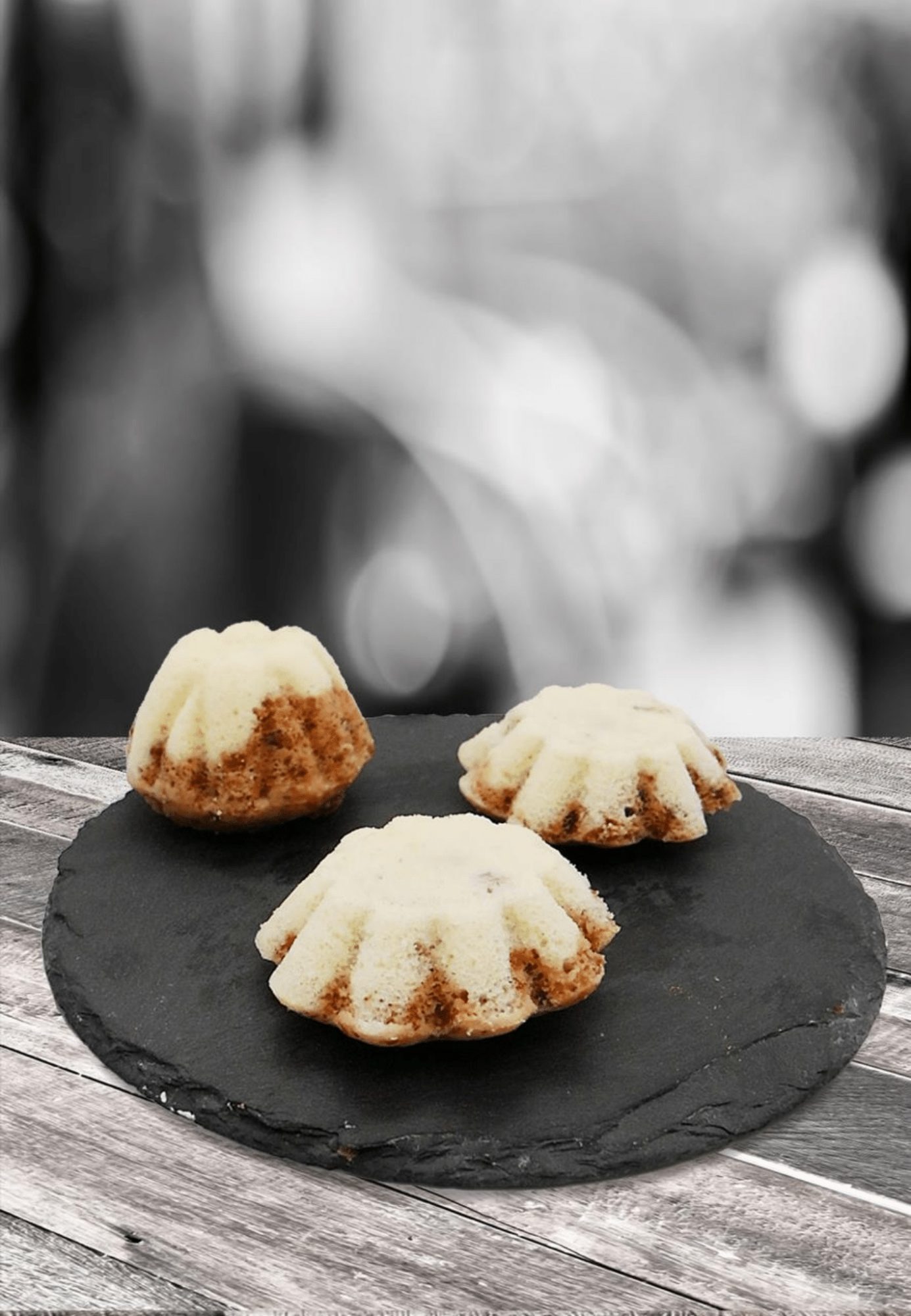 Raisin Batter
Group A
200
g
Sugar
Total % - 10.13%
12
g
Emulsifier Gel
Total % - 0.61%
150
g
Eggs
Total % - 7.60%
Group B
150
g
All Purpose Flour
Total % - 7.60%
150
g
Cake Flour
Total % - 7.60%
5
g
Baking Powder
Total % - 0.25%
160
g
California Raisin Paste
Total % - 8.11%
Group C
200
g
Coconut Milk
Total % - 10.13%
2
g
Cinnamon Powder
Total % - 0.10%
Plain Batter
Group A
260
g
Sugar
Total % - 13.17%
10
g
Emulsifier Gel
Total % - 0.51%
150
g
Eggs
Total % - 7.60%
Group B
150
g
All Purpose Flour
Total % - 7.60%
150
g
Cake Flour
Total % - 7.60%
5
g
Baking Powder
Total % - 0.25%
Group C
200
g
Coconut Milk
Total % - 10.13%
20
g
Grated Coconut
Total % - 1.01%
1
Sieve all the dry ingredients in Group (B) to remove lumps.
2
Combine Group (A) in a mixer bowl, whisk at high speed until light and fluffy.
3
Gradually add in Group (B) while mixing at low speed.
4
Gradually add in Group (C) while mixing at low speed.
5
Pour desired amount of batter into mould.
7
Allow to cool for few minutes before removing from mould.
8
Garnish with toppings (optional) and serve warm. (Options: grated coconut, red sugar, gula melaka).
Optional
9
For a more prominent raisin taste, pipe in a portion of California Raisin Paste into the middle of the mould prior to steaming.
Method for California Raisin Preparation (Conditioning)
10
Place 1kg of California Raisins in a bowl.
11
Add 1kg of warm water (should not exceed 24-27ºC for 15 mins.
12
Drain off the excess water.
13
Note: Amount of water absorbed is about 10-12% of the weight of raisins.
Method Preparing Raisin Paste from California Raisins
14
Transfer the 1kg of pre-conditioned California Raisins into a food processor.
15
Blend for a few minutes until a thick paste is obtained.
Ingredients
Raisin Batter
Group A
200
g
Sugar
Total % - 10.13%
12
g
Emulsifier Gel
Total % - 0.61%
150
g
Eggs
Total % - 7.60%
Group B
150
g
All Purpose Flour
Total % - 7.60%
150
g
Cake Flour
Total % - 7.60%
5
g
Baking Powder
Total % - 0.25%
160
g
California Raisin Paste
Total % - 8.11%
Group C
200
g
Coconut Milk
Total % - 10.13%
2
g
Cinnamon Powder
Total % - 0.10%
Plain Batter
Group A