Chef Chachaya Raktakanishta
Director of Academic, CULINEUR, School of Culinary Arts and Entrepreneurship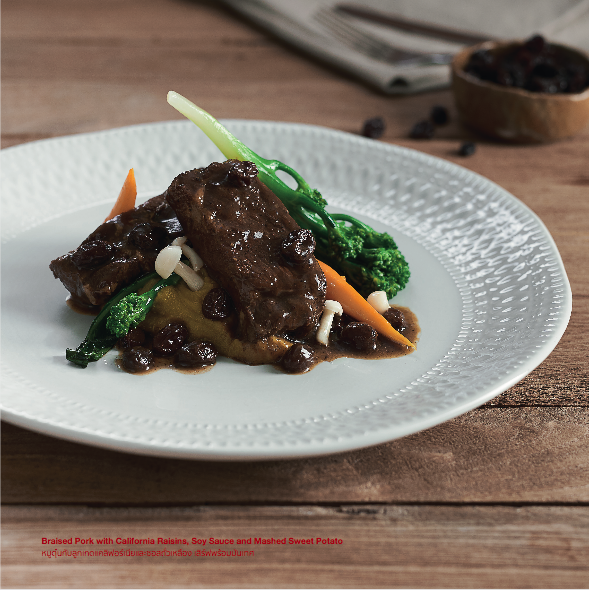 Braised Pork with California Raisins & Soy Sauce
1
kg
Pork Shoulder, cut into 4 portions
15
g
Coriander Roots, cut
2.50
tbsp
Light Soy Sauce
Vegetables
Mashed Sweet Potato
Braised Pork with California Raisins & Soy Sauce
1
Soak California Raisins in hot water until they have plumped up. Reserve 100 g of the soaked raisins and blend the rest until smooth.
2
Using a mortar and pestle, pound garlic, coriander roots, peppercorns and shallots until fine. Set aside.
3
Marinate the pork with 200 g of raisin paste, dark and light soy sauce, oyster sauce and garlic mixture for at least 30 minutes in the chiller.
4
Heat up a pan with 1 tbsp. of cooking oil, sear the marinated pork. Add water and simmer on low heat for 2 hours or until the pork is tender. Note. Cook for only 45 minutes if using a pressure cooker.
5
Remove pork from the sauce and blend the sauce until smooth. Add corn starch diluted with water and simmer until the sauce thickens. Strain.
6
Add the reserved soaked raisins and the pork back to the sauce. Set aside.
Vegetables
7
Blanch each vegetable separately, refresh with cold water and set aside.
8
Stir fry the vegetables with butter or oil and season with salt and pepper.
Mashed Sweet Potato
9
Peel the sweet potatoes and cook in boiling salted water until done. Strain.
10
Pass the sweet potato through a sieve. Add butter, cream, salt and pepper.
Assembly
11
Place the mashed sweet potatoes on a plate, arrange the braised pork coated with sauce on top of the sweet potato. Add the vegetables and drizzle with sauce.
Ingredients
Braised Pork with California Raisins & Soy Sauce