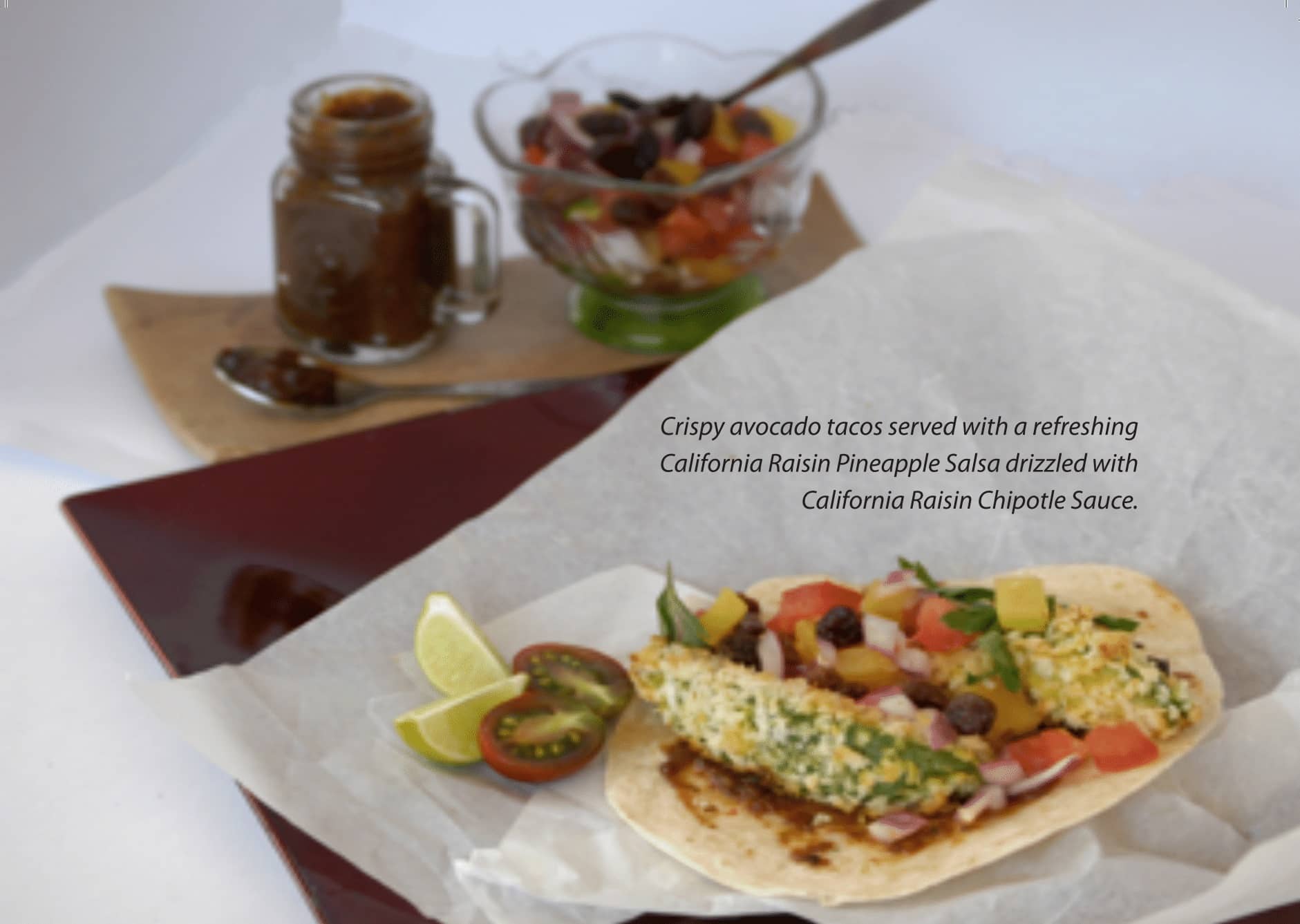 YIELD: 1030 g
SIZE PER SERVING: 2 Tacos (Approximately 250 g)
EQUIPMENT NEEDED: Cutting board, chef knife, small saucepan, wooden spoon, whisk, 4 medium mixing bowls, scale, oven, food processor, parchment paper, half-sheet pan, cooking spray
INGREDIENTS FOR SALSA
105
g
Fresh or Canned Pineapples, diced
1
Tomato, diced (Approximately 114 g)
4
g
Jalaperio Pepper, diced
INGREDIENTS FOR CALIFORNIA RAISIN CHIPOTLE SAUCE
33
g
Chipotle Peppers, canned in adobo sauce (Approximately 2 peppers + sauce)
INGREDIENTS FOR AVOCADO TACOS
2
Avocados (Approximately 270 g)
65
g
Panko Bread Crumbs (Japanese Breadcrumbs)
8
pcs Flour Tortillas (Approximately 250 g)
INGREDIENTS FOR AVOCADO TACOS
240
g
California Raisin Pineapple Salsa
120
g
California Raisin Chipotle Sauce, 1 scoop each
SALSA
1
Combine all the ingredients in a mixing bowl and refrigerate until ready to serve.
CALIFORNIA RAISIN CHIPOTLE SAUCE
2
Place California Raisins in a saucepan and add enough water to cover the raisins. Simmer until the raisins are plump. Strain and reserve the water.
3
Add California Raisins, chipotle peppers, adobo sauce, lemon juice, water, cilantro and salt into a food processor. Pulse until the mixture is smooth. Use water to adjust the desired consistency.
METHOD AND ASSEMBLY
5
Cut avocado lengthwise in half and remove pit. Cut each half into 4 equal pieces, then gently remove the skin.
6
Using the standard breading procedure, dredge each avocado slice in flour, egg wash and a coating of panko.
7
Place them on the prepared sheet pan and lightly spray with cooking oil. Bake for 5 minutes and turn the avocado slices the other side up. Continue baking for an additional 5 minutes or until lightly browned.
8
To assemble, spoon the California Raisin Chipotle Sauce over a warm tortilla, top with 2 pieces of avocado and a generous serving of California Raisin Pineapple Salsa. Serve immediately.
TIPS
9
Use a disposable hand glove to handle and cut the jalaperio pepper.
10
Prepare the California Raisin Chipotle Sauce ahead of time. This sauce will keep in the refrigerator for up to seven days in an air-tight container.
11
Use avocados that are ripe but firm to the touch so that the skin can come off easily and the slices remain undamaged. Avoid using over-ripe fruits.
12
Warm flour tortillas in the microwave for 30 seconds and keep them warmly wrapped in a kitchen towel until ready to assemble the tacos.
VARIATIONS
13
Flour tortillas can be substituted with corn tortillas.
14
Try serving with Spanish rice and refried beans.