Gary Lim | Baking & Culinary Science Instructor, Temasek Polytechnic
I was inspired by the local kaya toast to create this California Raisin coconut dome. The natural sweetness and slight fruitiness of the California Golden Raisins balance the flavour profile of the pandan coconut custard.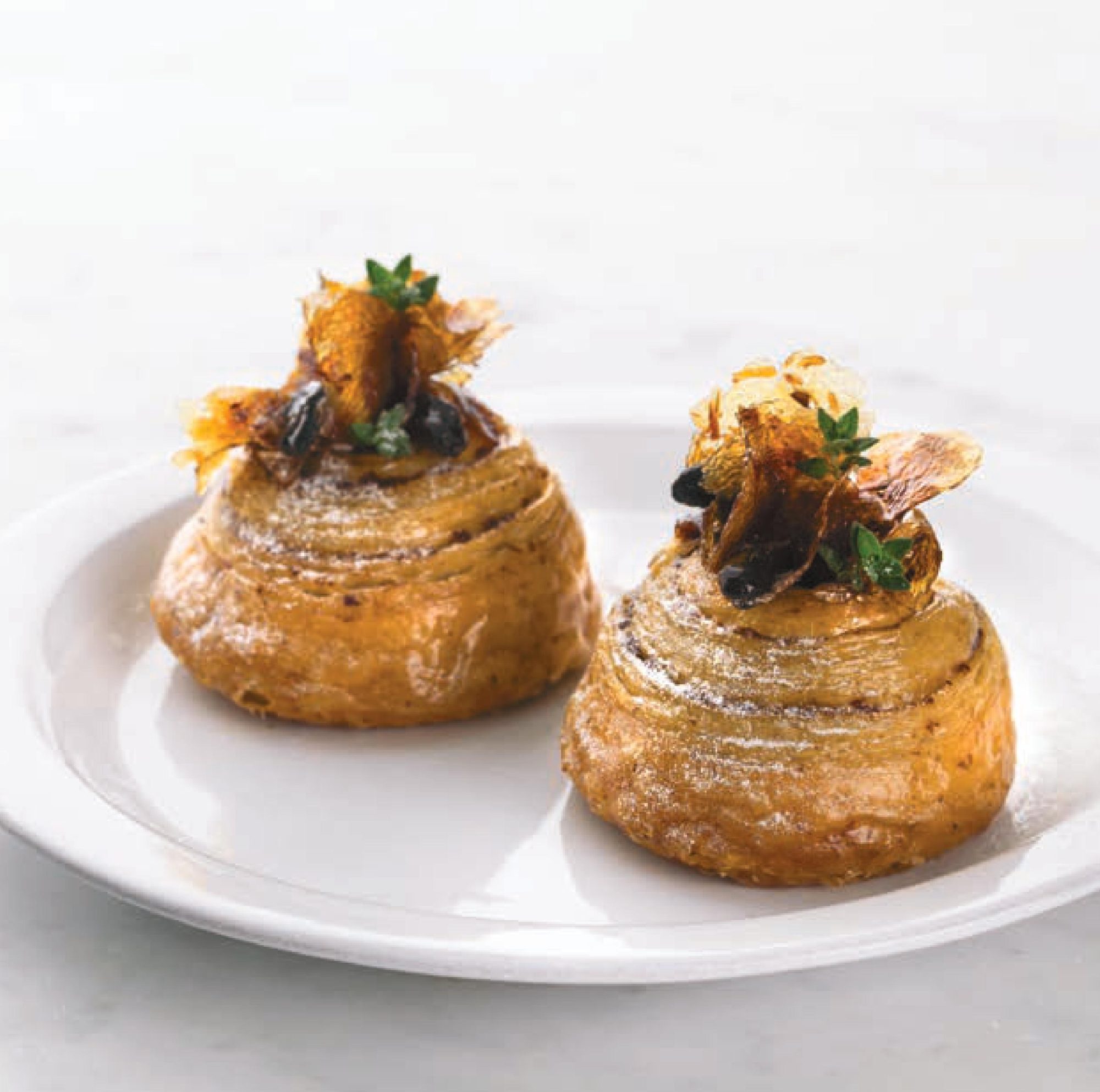 Yields 25 pieces
DANISH DOUGH
160
g
California Raisin paste (rehydrate California Natural Raisins in cold water, then strain and blend into purée)
400
g
bread flour, sifted
600
g
all-purpose flour, sifted
500
g
butter sheet (21cm x 21cm)
CALIFORNIA RAISIN PANDAN COCONUT CURD
285
g
California Golden Raisin purée (rehydrate California Golden Raisins in cold water, then strain and blend into purée)
20
g
pandan leaves, roughly cut
COMPRESSED CALIFORNIA RAISINS
100
g
California Natural Raisins
DANISH DOUGH
1
Mix all ingredients (except butter sheet) in a mixing bowl. Knead to medium gluten development.
2
Mould dough to a round shape and cover with plastic. Rest in chiller for half an hour. Enclose the fat with the chilled dough and make three single folds. Rest the dough in between each fold.
3
Roll to 3-mm thickness and cut into 30cm-by-3cm-by-3cm strips. Roll up strips and place in an oiled ring on a baking tray lined with a silpat mat.
4
Proof at 27°C and 85% RH for 45 minutes.
5
Once dough has proofed, bake at 200°C (top temperature) and 210°C (bottom temperature).
6
After 20 minutes, remove from the mould and bake for another 10 minutes until golden brown.
CALIFORNIA RAISIN PANDAN COCONUT CURD
7
Whisk all ingredients in a stainless steel bowl.
8
Place the bowl over a hot water bath and continue to stir until the mixture thickens.
9
Cool the mixture and remove the pandan leaves before piping into the baked pastries.
COMPRESSED CALIFORNIA RAISINS
10
Flatten the California Raisins with a rolling pin until they are paper-thin, and then dry in an oven at 100°C for 1 hour.
11
Cool and store in an airtight container until ready to use.
To Assemble
12
Fill the California Raisin pandan coconut curd in a piping bag and pipe into the baked Danishes.
13
Dust with snow powder and garnish with compressed California Raisins before serving.
Ingredients
Yields 25 pieces
DANISH DOUGH
160
g
California Raisin paste (rehydrate California Natural Raisins in cold water, then strain and blend into purée)
400
g
bread flour, sifted
600
g
all-purpose flour, sifted
500
g
butter sheet (21cm x 21cm)
CALIFORNIA RAISIN PANDAN COCONUT CURD
285
g
California Golden Raisin purée (rehydrate California Golden Raisins in cold water, then strain and blend into purée)
<