FEIL OLIVE ANNE M. VIGILLA
Marrying California Raisins with the dried mangoes from Cebu makes this cake a winner. Crafted with ingredients that are available all year-round, you do not have to worry about not having this cake whenever you want. Enjoy these cakes guilt-free as these fruits are rich with antioxidants and essential nutrients such as fiber, potassium and iron.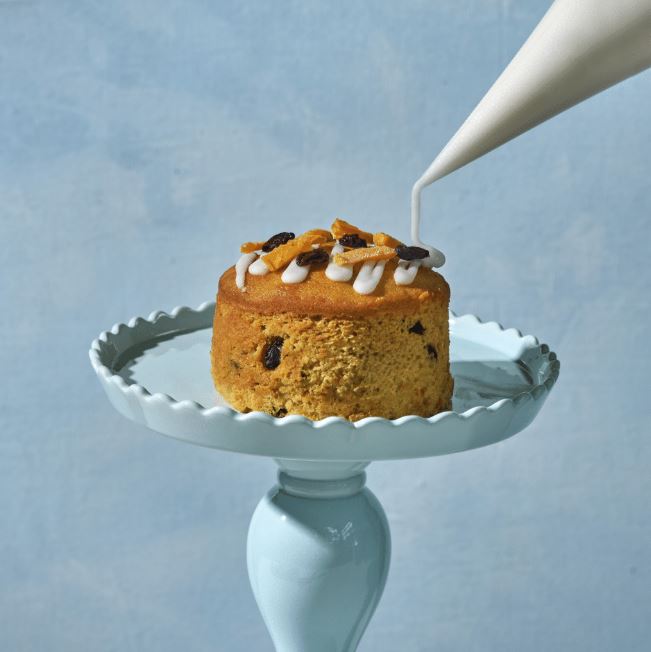 Makes 4 cakes
CALIFORNIA RAISIN AND DRIED MANGO SOAKER
100
g
California Raisins (A)
100
g
Dried Mango (A), diced
BATTER
225
g
Sugar, white refined
250
g
All-Purpose Flour, sifted
100
g
Butter, Anhydrous Milk Fat
SUGAR GLAZE
500
g
Confectioners' sugar
TOPPING
15
g
California Raisins (B)
15
g
Dried Mangoes (B), diced
California Raisin and Dried Mangoes Soaker
1
In a bowl, combine California Raisins (A), dried mangoes (A) and water.
2
Cover and soak for 30 minutes.
Sugar Glaze
4
In a bowl, dissolve confectioners' sugar in warm water.
Batter
6
Preheat the oven to 150 ̊C. Grease four (4) 4-inch pans and line the bottom with parchment paper.
7
In a stand mixer fitted with the paddle attachment, beat the egg until light. Mix on medium speed.
8
Add the sugar, salt and mango puree. Mix until homogenous.
9
Gradually add the sifted all purpose flour, baking powder and baking soda. Mix on low speed until well incorporated.
10
Add the butter and mix until fully blended.
11
Using a flexible spatula, fold in the soaked California Raisins and dried mangoes.
12
Distribute the batter into the prepared pans.
13
Bake for 60 to 75 minutes until done or a tester comes out clean.
14
Remove cake from pan and set onto a wire rack to cool completely before serving.
15
Drizzle the sugar glaze on top of cake and decorate with California Raisins (B) and dried mangoes (B).
Ingredients
Makes 4 cakes
CALIFORNIA RAISIN AND DRIED MANGO SOAKER
100
g
California Raisins (A)
100
g
Dried Mango (A), diced
BATTER
225
g
Sugar, white refined
250
g
All-Purpose Flour, sifted
100
g
Butter, Anhydrous Milk Fat
SUGAR GLAZE
500
g
Confectioners' sugar
TOPPING