Chef Sakchai Ditsakul
Board Committee, Thailand Chefs Association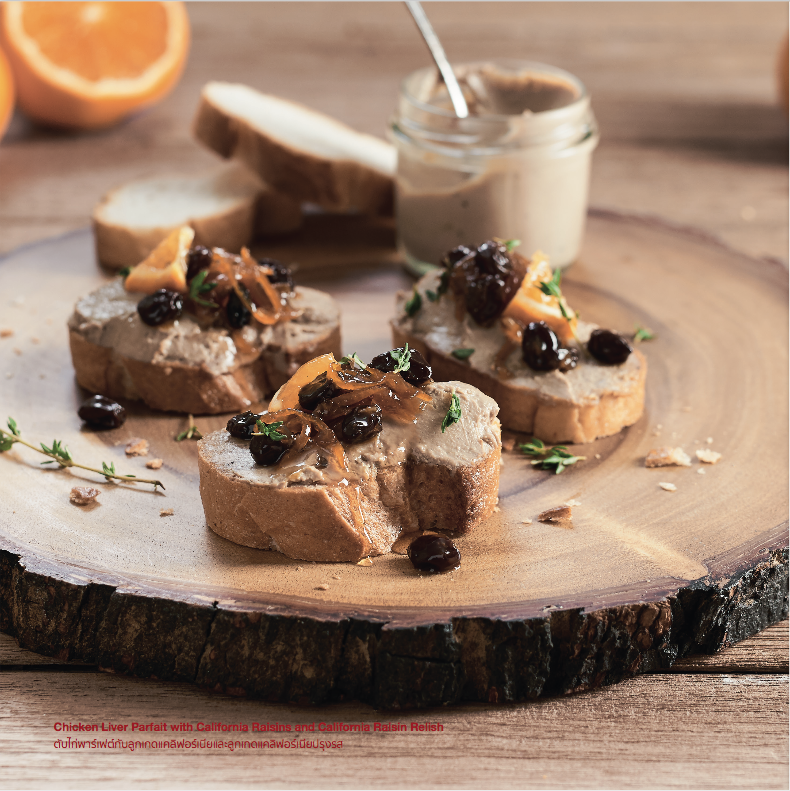 Chicken Liver Parfait
5
g
Kosher Salt and Pepper
California Raisin Relish
60
g
California Raisins, soaked in brandy
Garnish
24
g
California Raisins, soaked in brandy
Chicken Liver Parfait
1
Clean chicken liver by soaking it in milk for 30 minutes and then sauté with garlic, shallots, chopped rosemary, salt and pepper. When liver is partially cooked, pour brandy over it and set aside.
2
Place the liver in a blender and add sugar, cream, eggs and melted butter. Blend until smooth.
3
Pass the liver paste through a sieve and put into a mould. Bake in an oven at 150 C for 45 minutes. Allow to cool and then set in the refrigerator overnight.
California Raisin Relish
4
Sauté shallots in butter and add bay leaves, orange juice, honey and orange zest. Reduce the liquid and then add the marinated raisins. Set aside.
Assembly
5
Top the liver paste with brandy-soaked raisins, pistachios, orange zest and raisin relish.
6
Add orange segments, salad leaves and olive oil.