Chef Samarn Vichiernarat
Owner, KNOWHOWBAKE The School of Baking and Pastry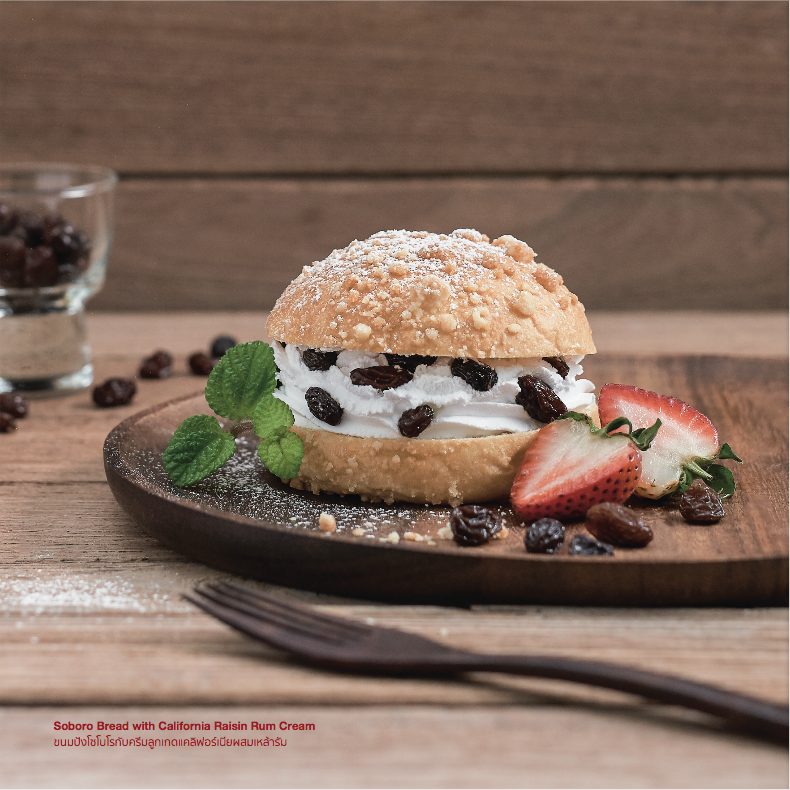 California Raisins Rum Cream
Soboro Bread
Soboro Topping
California Raisins Rum Cream
1
Combine the sugar, rum and whipped cream together in a bowl, whisk until stiff peaks are formed. Add raisins and place in piping bag. Keep chilled in the refrigerator.
Soboro Bread
2
Put the dry ingredients into the mixer. Add yeast and salt separately in opposite sides of the mixing bowl. Beat until well combined.
3
Add water, milk and egg and continue beating.
4
Add the butter and change to high speed to continue mixing until a soft and smooth dough is formed. The dough should feel elastic and slightly tacky to the touch.
5
Cut the dough into 50-gram balls; rest the dough for 10 minutes.
6
Shape into desired shape, usually round. Brush the dough with
water, place soboro topping on top, cover with plastic wrap and allow the dough to proof until it is double in size, or approximately 40-45 minutes before baking.
7
Bake at 175 C for 15 minutes, or until the soboro bread turns golden brown.
8
Remove from the oven and allow the soboro bread to cool down on a wire rack.
9
When the bread has cooled, cut each piece into half and pipe in the California Raisin Rum Cream. Dust with icing sugar.
Soboro Topping
10
Mix sugar, butter, flour, egg whites and baking powder together by hand until the dough resembles fine crumbs. Place in the refrigerator.
Ingredients
California Raisins Rum Cream
Soboro Bread
Soboro Topping