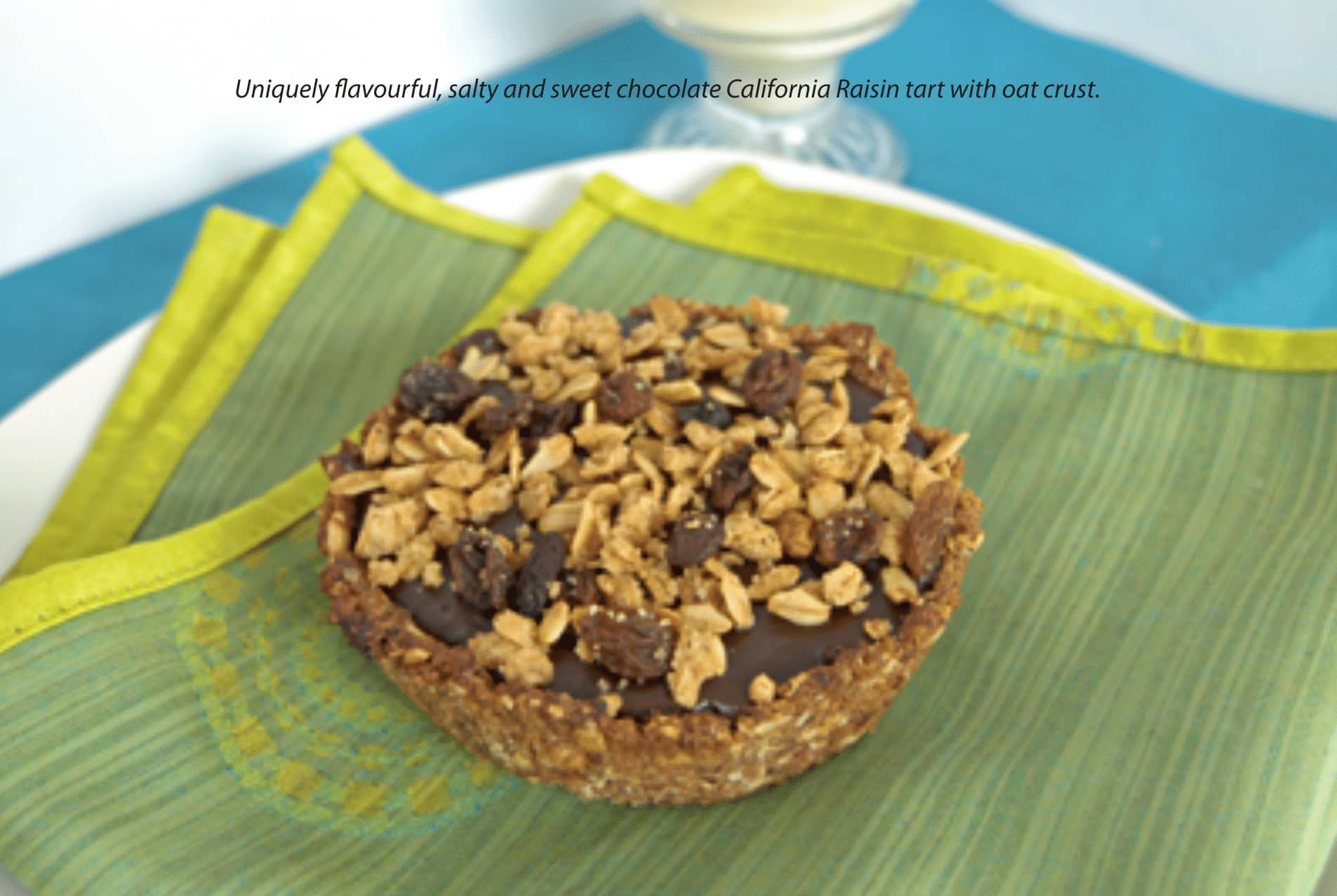 YIELD: 1015 g (1 Tart)
SIZE PER SERVING: 1 slice (Approximately 60 g)
EQUIPMENT NEEDED: 2 medium bowls, food processor, pot for double boiler, rubber spatula, small skillet, oven, wire rack and a 23 cm diameter or a 35 x 11.5 cm tart pan with removable bottom
INGREDIENTS FOR OAT CRUST
130
g
California Raisin Paste
20
g
Unsweetened Cocoa Powder
INGREDIENTS FOR FILLING
220
g
California Raisin Paste, fine paste
1
g
Instant Espresso Powder
186
g
Unsweetened Cocoa Powder
200
g
Dark Chocolate, melted and slightly cooled
OAT CRUST
1
Pre-heat oven to 180°C. Pulse all ingredients in a food processor until the oats are coarsely grounded and the mixture resembles "wet sand".
2
Firmly press mixture onto the bottom and up the sides of the tart pan. Bake until the crust is golden brown. Transfer to a wire rack and allow it to cool.
FILLING
3
Dissolve the espresso powder in 125 ml of hot water, add cocoa powder and set aside for 5 minutes. Add the California Raisin Paste, melted chocolate, vanilla extract, vegetable oil and salt to a food processor. Process for approximately 30 seconds or until the mixture is very smooth and thick.
4
Transfer filling into the cooled tart shell and smoothen the top. Tap tart lightly to remove any air bubbles.
5
Cook oats in 30 g of vegetable oil over low heat, stirring constantly, until the oats are toasted (approximately 3 minutes). Gradually add half of the demerara sugar. Stir until the sugar is melted, remove from heat and add the remaining demerara sugar and California Raisins. Set aside to cool.
6
Sprinkle the mixture and flaky sea salt on top. Chill for at least one hour until the filling is set.
TIPS
7
Prepare the California Raisin Paste ahead of time.
8
Cut chilled tart using a heated knife.
9
Serve accompanied with your favourite hot beverage.
VARIATIONS
10
Can be made into individual tarts.
Ingredients
YIELD: 1015 g (1 Tart)
SIZE PER SERVING: 1 slice (Approximately 60 g)
EQUIPMENT NEEDED: 2 medium bowls, food processor, pot for double boiler, rubber spatula, small skillet, oven, wire rack and a 23 cm diameter or a 35 x 11.5 cm tart pan with removable bottom
INGREDIENTS FOR OAT CRUST
130
g
California Raisin Paste
20
g
Unsweetened Cocoa Powder
INGREDIENTS FOR FILLING
220
g
California Raisin Paste, fine paste